The tradition of most music conservatories is to teach music that came out of Europe during the classical era. But that's not all there is to offer — music exists in many forms all across the world.
Besides traditional ensemble classes for music majors, the music school also offers numerous classes for music and non–music majors, abbreviated MUNM, or music for nonmajors. John White, associate professor of music theory, history and composition, teaches the class Music in Society, which falls under that umbrella. Music in Society explores the many ways music is used in several cultures around the world, including contemporary America.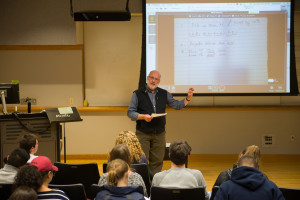 One of the traditions of music that came from America is jazz, White said. Jazz came out of the African-American community and was not typically taught at music conservatories. The college offers numerous jazz courses under the jazz studies major as well as a jazz performance ensemble, but jazz is not part of the typical tradition, White said.
"Primarily, the conservatories of music were built on American soil to continue the European music tradition, hence white — Bach and Mozart," he said. "Jazz, as taught at a music conservatory at a music school, is a fairly recent tradition, say the last 30 years."
Above, White presents a piece of jazz music called "Lush Life," performed by Nancy Wilson.
According to an article written by Bill Zuckerman published on the website, Music School Central,, American music is not generally on the audition list for music conservatories. Instead, many schools rely on the old European tradition and composers like Mozart, Tchaikovsky, Mendelssohn and Bach.
Besides jazz, White also discussed Japanese, African, Indian, Native American, folk and religious styles of music. But even within those, there is great diversity, White said. Tanzanian music is different from Mozambican music, which is different from music from other African countries, and so forth.
Above, White presents a piece of jazz music with influences from bluegrass called "And When I Die," arranged by Billy Childs. 
Baruch Whitehead, associate professor of music education, teaches West African Drumming and Dance Ensemble in the School of Music, among other courses. Whitehead presents workshops on diversity in music education for state, national and international conferences, and was chosen to write a chapter on "Music in the Civil Rights Movement" for a book titled "Music and Conflict Resolution."
"Particularly with the rise of POC at IC, I think everybody is looking for ways to open up the tent," Whitehead said.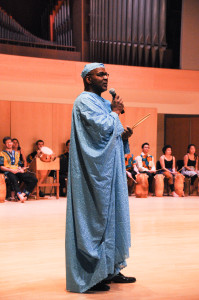 When Whitehead began teaching West African Drumming and Dance in 2004, only 16 students signed up, and Whitehead said they had fun but that the experience made him wonder why there wasn't a West African Drumming Ensemble. He talked to then-dean Arthur Ostrander, and now, 12 years later, West African Drumming exists as a secondary ensemble.
"It attracts a very diverse group of students from across campus, and we have access to all of the venues here, in terms of performance venues," Whitehead said. "The School of Music has invested a lot of money in buying drums and the upkeep of the drums and those sorts of things, so I feel like it has been very well-supported."
Whitehead said it's important in a changing world to increase the repertoire of the students graduating from the college. Since the world of professional musicians is a hard and competitive field, the more knowledge they are equipped with, the better chance they stand to succeed.
"I don't want diversity to be a footnote," he said. "I want us to embrace it wholeheartedly, to give it support and to look at the curriculum to see what else we can bring in. I think, as a campus, people are looking at things that have traditionally been institutional racism and how you dismantle that."
Above, Whitehead presents a celebration dance from the Ewe people of northern Ghana.
Seniors Sun Hwa Reiner and Madeline Swartz both spoke about music diversity. Reiner is a piano music education major, and Swartz is a Bachelor of Music and outside field of education studies. One of the problems they mentioned is the curriculum is already full, but Swartz said there is room for change.
"The amount of detail we go into is unnecessary," Swartz said. "It could be replaced with details on other forms of music. When I was doing my senior student teaching, not all of my students were white, and most of them didn't have that much of an interest in classical music."
Reiner said something she would like to see in conservatories is the inclusion of popular and contemporary music.
"I've been realizing more and more how much we're missing other cultures' music because this year, I had founded a chapter of the Association for Popular Music Education, and we've been advocating for the inclusion of popular music education in conservatories and colleges," she said. "And that's not to say it's just pop music you hear on the radio, but popular music of any type — say a Latino band or funk group."
Whitehead said it's the little things that help, like including music and photos on the wall outside the white European tradition. Whitehead is the only tenured black faculty member in the School of Music, he said, but with the campus's increasing awareness of these issues, people will stand up and say, "We must change." Other black faculty members of the School of Music, including Assistant Professor Derrick Fox and Assistant Professor John Holiday, do not have tenure.
Even music written by American composers is underrepresented in music conservatories. Louise Mygatt is a lecturer in the School of Music and teaches music history courses including Women in Music and African American Popular Music. Some of the music she covers includes gospel music and jazz.
"Most pop music in this country has roots in black music — blues and gospel," she said.
Mygatt said people around the School of Music have been talking about ethnomusicology, or music history of people from different ethnicities, for years. She said many people feel that music students graduating from any sort of music school need every trick in the bag, so diversifying is in everyone's best interest.
"When you get out in the professional world, you might think you're going to direct high school band, but then they'll say, 'Oh, can you also direct the chorus?' Suddenly, you're a choral director. Negro spirituals are such an important part of choral music in this country and the world, and you need to know about that music," Mygatt said.
Besides the benefit students may receive from increased job opportunities, Mygatt said, music is an expression of culture, and learning about the music of other cultures is beneficial for everyone.
"The more we understand and are interested in one another's cultures, the better off we are. It helps people get along," she said.