For the next five weeks, The Ithacan will feature graduating seniors who have made significant contributions to the college and community.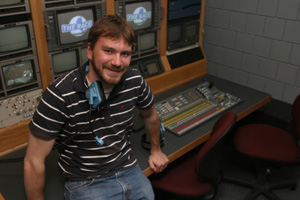 While at home in Candor, N.Y., senior Peter Berg helps his father, the second-largest weapons manufacturer in Tioga County, sell atlatls, ancient spear-throwing devices.
"My dad has never had a job in his life," Berg said. "He's always just started his own businesses, or he's changed professions like a dozen times, and he's had a great time. So I just want to follow my interests and see where they lead."
At Ithaca College, Berg, a television-radio (TV-R) major, is taking his own chances as co-producer of "The Race," the college's version of CBS' "The Amazing Race," and "Unicorn Boy," ICTV's first animated show. He also works with six other ICTV shows. Berg is also a Park Scholar, a communications student who receives a full scholarship from the Roy H. Park Foundation.
"I feel like, if I have a lot of free time, then I'm not really accomplishing anything," Berg said. "I guess you could say I'm a bit of a workaholic."
Matt Fee, Park Scholar adviser, said Berg is a calming presence in stressful situations. When Berg and eight other Park Scholars accompanied Fee on a trip to Ethiopia last year, Berg helped produce a 10-minute piece to promote the country's educational programming. The catch was the program had to be produced in two days.
"One can very easily get caught up in the stress of trying to produce a piece in such a short amount of time," Fee said. "But Pete was very much like, OK, we have to do this next. We have to do this. We have to do this. He's very zen."
Senior Angel Yau said Berg motivated her to get more involved.
"He was a pretty quiet guy and I was pretty quiet," Yau said. "Then all of the sudden he's doing all of these TV shows and he's getting involved in more things. And I think that helped me get out of my shell."
When Berg was choosing a college, he said his many interests pulled him in different directions. He said he made up his mind to come to the college as a TV-R major when he became a Park Scholar finalist.
"I really like just students having complete creative control to make whatever TV shows or film or radio show or Web site or write whatever article they want," Berg said.
Berg said his favorite reality TV show is "The Amazing Race" on CBS, a show in which teams of two race around the world and compete in various tasks. Berg decided to adapt this idea to the college. In ICTV's "The Race," six teams of two students race around New York state competing in eight challenges a day. Producing and working on a TV show is an enormous time commitment, one that is not always easy for Berg to manage.
"I had to edit three episodes of 'The Race' where I had to pull four all-nighters in a row in order to get the show made and aired on time," Berg said.
Berg and senior Mike Wechsler taught themselves animation in order to create "Unicorn Boy."
"I don't think I would have tried to make a cartoon show on my own if it were not for Pete," Wechsler said.
One of Berg's interests outside television is computers. When Berg first came to Ithaca, he said the ICTV Web site was nearly blank and contained no media. So he completely overhauled the Web site, adding video on demand, podcasts, live Web streaming and photos.
Berg also publishes a free online magazine and runs a Web site about QBasic, a defunct computer programming language that allows users to create anything from text-based games to 3-D graphics.
Friends and faculty said they will miss Berg when he graduates.
"Ithaca College will feel a whole lot emptier," Wechsler said. "I don't want to go to a college that doesn't have Pete Berg at it."
Though Fee said he will miss Berg, he is optimistic about Berg's influence on other students.
"I don't think that his shoes can ever be filled, but I definitely think he's shown some really great paths that folks can follow," he said.
Despite all his work with ICTV, Berg said he does not want to take the traditional TV industry path. Berg said he is still uncertain what he will do after graduation, but an option involves hitchhiking across the United States.
"Every single day I'll stop at some random town and find one person and interview them," Berg said. "I'll just ask them to tell me one story about their life or about what they had for breakfast that morning."