While to some yoga may appear to be people forming impossible, even painful, poses with their bodies, many find it to be a system set on rejuvenating the body, easing tension and prolonging life. For these individuals, the practice is one that relieves stress, and at Ithaca College, both students and faculty have practiced this art and found it to have a positive impact on their spiritual and mental well-being.
Freshman Ilana Diamant has found stress relief from her experiences in yoga. Diamant has been practicing yoga ever since her mother, a yoga teacher, signed her up for a class during kindergarten to expose her to yoga at a young age. During high school, Diamant said she experimented with a few types of yoga before finally settling on a style called power vinyasa, which places an emphasis on high temperatures and core strength. She said she appreciates its tension-easing aspects.
"Yoga requires so much focus," Diamant said. "You can't be distracted, so even if I'm stressed out about a paper or a project, I can't be worried about it. It's a nice break for an hour and a half to just not think about anything else."
Diamant's sentiments reflect an overall increase in popularity toward this alternative form of exercise and stress relief. According to a 2012 study in Yoga Journal, a popular yoga magazine, "20.4 million Americans practice yoga, compared to 15.8 million from the previous 2008 study."
For the student body, the stress relief yoga offers is especially relevant. Stress may come in the form of lack of sleep, large workloads, problems with family or friends and financial difficulties for some students. Several studies, including one from the National Center for Complementary and Integrative Health, have shown that practicing yoga has resulted in decreased anxiety and depression as well as reduced heart rate and blood pressure.
The college boasts several yoga programs that are open to both students and faculty. The Fitness Center has group exercise sessions from Tuesday to Friday that involve four forms of yoga called kripalu, astanga, iyengar and gentle. There are also yoga classes held through the school's Physical Activity, Leisure and Safety program.
James Eavenson, a lecturer for the Department of Health Promotion and Physical Education, has been teaching yoga at the college with both PALS and independent classes for 16 years and said he tries to teach every class with an open mind. He occasionally comes to class with a plan for that day, but he's open to reading the atmosphere and the students' feelings. He said this results in a completely different plan in order to accommodate the mood.
"The way I structure classes now is to obviously give them some good teaching, but at the same time to let them chill and to encourage them to relax," Eavenson said.
Dylan Bland, a freshman pole vaulter on the men's track and field team, is currently taking Eavenson's course, Yoga Study and Practice I, and said he took the class to improve his overall health as well as his athletic performance.
"I'm not an expert, but I'm currently doing [yoga] through PALS, and my track team does it occasionally," Bland said. "It can help you be more flexible when you stretch before and after a meet. You're much more loosened up."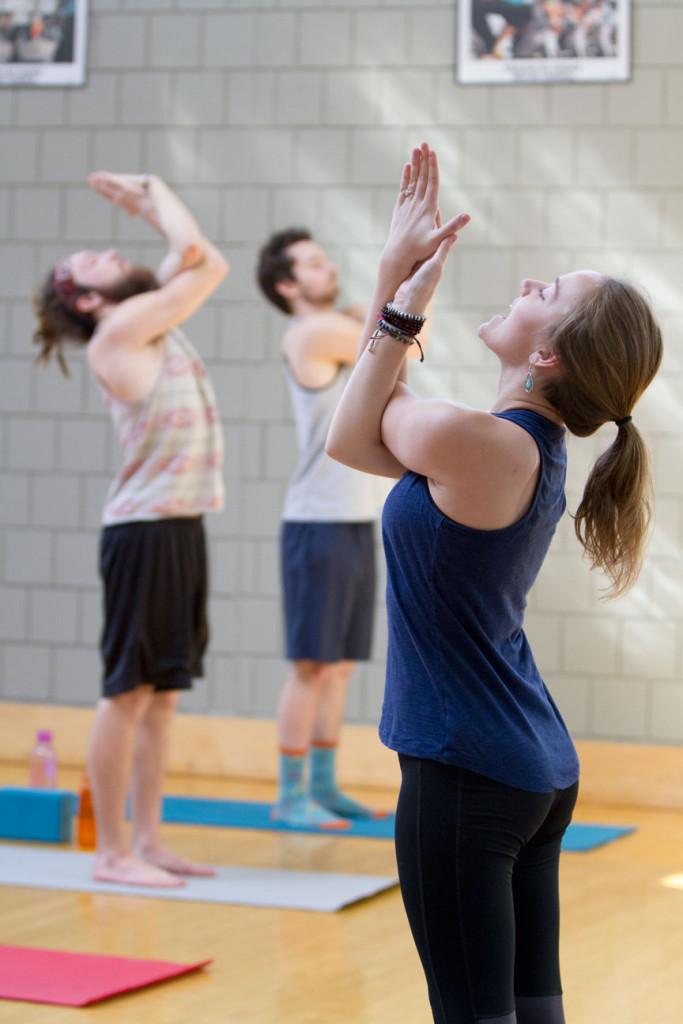 While yoga has formed a community within the student body on campus, it also has significant presence in town. There are about 10 yoga studios downtown, such as Mighty Yoga Ithaca and The Yoga School, each offering many specific types of yoga. Along with these studios, however, the larger Ithaca community showed its appreciation for yoga Feb. 22 with an event called "Yogathon," a 4-hour event that promoted practicing yoga in the community regardless of both skill level and age, at the Ithaca High School.
Event coordinator Stephanie Bailey said almost $15,000 was raised for the Family and Children's Service of Ithaca, which is a service that offers access to mental health care to the citizens of Ithaca. Bailey said practicing yoga during the winter gives people a reason to get out, be active and keep up spirits, despite the cold weather.
"Winter is really tough for people," Bailey said. "Anything you can do to treat yourself and your body during this time really helps cure the winter blues. It has been shown that exercise is really good for that."
Eavenson said ever since he left a high-paying job in New York City several years ago, teaching yoga has turned out to be a more spiritually gratifying way to spend his time. While he teaches yoga to students and faculty on campus, he has also been teaching it in India for about 11 years. He said he travels there yearly — sometimes for several months at a time — to study yoga, and at a one point taught in Indian hospital's physiotherapy department. Eavenson expressed that it is different to teach yoga in the two places because of how yoga is represented in India and the West's culture.
"Being a student of yoga continues to give me a goal for living and serving others in a better way," Eavenson said. "As a teacher, it has brought me into a relationship with people in the world. It's sometimes challenging to stand in front of someone and teach them something very deep because it's a subject that you have to absorb … it's challenging to be a teacher — a good challenge."
Though not all instructors are necessarily faculty, they still see the practice in a similar light. Freshman Holly Perkins became a yoga instructor at the Fitness Center this past fall semester. She said it has made a huge difference in her life. After quitting dance upon graduating from high school, Perkins decided to look into yoga to find a new focus. She said when she's not teaching, she finds meditating and practicing yoga in her room to be just as fulfilling as when she's in a class, and offers her a method of stress relief.
"It kind of tames my anxiety and stress levels. It allows me to stay in touch with my needs," Perkins said. "That's why when people kind of get a taste of it, they start realizing how much it can impact your life."
Ultimately, Diamant said yoga is an invigorating way to make her happy. She said it energizes her, clears her mind for the week ahead and encourages students to open their minds to it.
"I think [students] should try it. It's not for everyone, but at the same time some of the people who've said that yoga isn't for them have maybe tried it once, and not every yoga class is made the same," Diamant said. "They seem to think that yoga is a singular concept. It's not. There's many kinds, so I think people should make that effort because once you find a type that's good for you, the benefits are endless."