In the hallways of the Roy H. Park School of Communications, students catch up on the most recent episode of "Supernatural."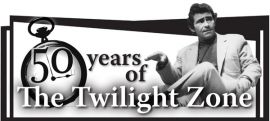 "Did you watch last night's episode?" and "Did you see the way Ruby tricked Sam? She was awesome!"
Students recount last night's paranormal-filled episode as they walk to class, passing a glass display case glittering in the light, without even realizing that the man honored within the case was responsible for much of the way horror and science fiction shows, like the popular show "Supernatural," are represented today.
Tomorrow, Ithaca College will kick off the 50th anniversary of Rod Serling's "The Twilight Zone" with the Rod Serling Conference, a two-day event sponsored by the Park School.
Edward Rod Serling was born in Syracuse, N.Y., in 1924 and was raised in Binghamton, N.Y. He attended Antioch College in Ohio after serving in the Army during World War II. In 1956, he wrote the script for "Requiem for a Heavyweight," a story about a former boxer getting back into the ring. Later, in 1959, Serling produced his most famous work "The Twilight Zone." Then, in 1967, he went on to teach a specialty course at the college focused on dramatic writing. He taught until 1975 when he died of a heart attack.
Diane Gayeski, interim dean of the Park School and a former student of Serling's, said she hopes those who attend the conference find inspiration in what Serling did and how he achieved success.
"Today in a lot of media we rely a lot on the wonderful special effects that can be achieved to gain impact and attention," she said. "Rod was able to do it primarily with words in really a very low-tech kind of industry at that point."
Junior David Reynolds, a television and radio major, said he admires Serling's ability to create new and interesting stories that were more personal than other shows at the time.
"It wasn't about sci-fi," he said. "It was about the people in it, and it was about their reactions. Who cares about the end of the world if you don't know anybody you care about who's going to die in it? Serling took that and made such personal stories."
Freshman Wade Thomas Ferrari, a cinema and photography major, said some students don't know much about Serling. They can only connect "The Twilight Zone" with him. He said besides Serling's TV show, he also knows there is a scholarship at the college in Serling's name.
George Clayton Johnson, the keynote speaker for the conference and a scriptwriter for several "The Twilight Zone" episodes, said Serling had a kind heart.
"The thing about Rod was he was a class act," Johnson said. "He stood for the classic virtues. He would stop to help the old lady across the street. And he would defend his right to freedom of speech even though he got in trouble for it."
Carol Serling, Serling's wife, said her husband really cared about the medium. She said he believed it was there not only to entertain people, but also to educate.
"I don't think he realized the impact and the fact that some of his work is still out there 50 years later," she said. "I think he would be very surprised."
Carol said her husband used the "The Twilight Zone" as a vehicle to address contemporary issues.
"If somebody was a Martian speaking, they could say the kinds of things he wanted to get out there, and he really wanted to deal with social issues," she said. "He had a lot of problems with network censors and sponsors, which is why in a sense, he escaped into 'The Twilight Zone,' because he could say what he wanted to."
Dan Heffner '78, producer of the "Saw" franchise, was a freshman when Serling taught his final semester. Though Heffner didn't have a class with Serling, he said he followed "The Twilight Zone" series avidly, and it influenced his later work.
"Rod Serling's narrative and his method of telling stories has influenced everything I've done," he said. "And
certainly his name is one that definitely has come up multiple times in 'Saw' story meetings."
Heffner said Serling was at the forefront of the television industry and a revolutionary of the time.
"He was a major shaping form [for] television," he said. "I think some of the most classic television was his responsibility."
Johnson said Serling inspired him to look beyond reality and use a little imagination in his writing.
"The idea is that these kinds of stories all seem to be very realistic dramas with one small element of the imaginary attached to them," he said. "That is sort of his format, the real world with a touch of strange."
Heffner said he thinks Serling's place in history is important in the TV world. Serling came into being in television at a time when television itself was in its infancy, Heffner said.
"Nobody really knew what television was at that point in time, and I think, as a whole, it was a much more intellectual medium than it is now," Heffner said. "I don't know that Rod Serling could do in today's world what he did in the '60s in its heyday. Potentially a lot of the things he did would be seen as art films or PBS broadcasts or nonmainstream work. And that is upsetting."