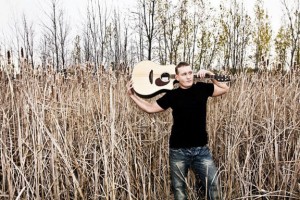 As a freshman at Ithaca College, Ryan James '00 formed the a cappella group the Sons of Pitches. While it started as an informal sextet, Pitches became one of the most popular a cappella groups in the country.
But now James is branching out on his own. Through connections in the Rochester area, James has become an independent, unsigned artist whose self-titled album has given him complete creative license.
Contributing Writer Christine Pearl talked to James about what made him to leave a cappella behind, explore his own musical inspiration and release his first solo album.
Christine Pearl: Can you tell me about your experience in Ithacappella?
Ryan James: I was actually in the first year that they started it. They were a springboard of me taking that unconventional route and starting the Sons of Pitches, and that spun off into a bunch of different stuff, and here I am with a solo album.
CP: What inspired you to produce a solo album now as opposed to when you left the a cappella group a few years ago?
RJ: It's all about timing. If I had tried to do a solo album years ago, I really don't think it would be as authentic and genuine as it is now. … I've lived through quite a few different scenarios, and I have to say, if I decided to do this even five years ago, it certainly would not have turned out the way it did. … From a songwriter's perspective you don't want to push too hard on a song, you kind of want to wait and find that happy medium.
CP: What is your solo album about?
RJ: Just like any of us who need to sit down every once and awhile and express what we're feeling in whatever way — painting, writing, meditating, thinking, whatever it is that you choose to do — my outlet happens to be in music. So again, it was the timing and life experience. Every syllable on that album I wrote, and every syllable on that album I have lived. This time I'm really putting myself out there.
CP: What artists influenced you on this album?
RJ: It's kind of all over the map. There's your pop-melodic songs, a little bit of rock, some jazz, and a lot of people are saying if they had to put me in a category, it'd be country. But it's not even that. There really isn't a category out there that you can put me in a certain slot. And that may have been a bad move, but I really wasn't thinking about a demographic. I wasn't thinking what category are they going to pigeonhole me in. … I'm a really melodic writer [like] John Mayer, Billy Joel, Elton John, Garth Brooks, Keith Urban.
CP: What're your long-term goals for the album?
RJ: This is my autobiography of my life to this point, set to music. If the response wasn't as good as it has been — I've got kind of thin skin, I'll be honest — I would take it personally because this is as personal as it gets. … The goal is to get it out there and let people decide if it's going to fly or flop. I don't know the answer. I have a feeling, and it's a good feeling.
CP: What is your most memorable performance while touring?
RJ: It was with the first band I ever sang with, Nik and the Nice Guys, out of Rochester. … I thought that it was time to jump off the stage. I wasn't looking to get caught, I just was going to land and then keep going. … I didn't realize that the stage was more than 10 feet above the dance floor. So jumping a good 2 feet over the monitors and then falling another 10, I went down 12 feet and heard a little crackle in my ankle. So I went from being the really cool guy for about five seconds to being the guy in excruciating pain, still having to sing the damn song to 2,500 people.
CP: Were there any hardships or personal situations you had to overcome before you could release a solo album?
RJ: It sounds cliché again, but those break-up, make-up and break-up, no make-up [situations] hit me pretty hard. … The crap we go through, we can decide how long we want to stay down in that hole. … So at times, I second-guess myself. … Should I have been a teacher? Should I have been whatever, something more conventional? But I can't imagine doing that. It's not me.
CP: Do you have any gigs lined up for the summer or in the area?
RJ: I'll be playing at [Ithaca's] Relay for Life at 8 p.m. on Friday, June 17. I was kind of blown away that they asked me to do this gig because Ithaca is just full of incredible musicians, and to be part of that is obviously an honor.
For a list of tour dates and to listen to some of his music, visit www.listentoryanjames.com.