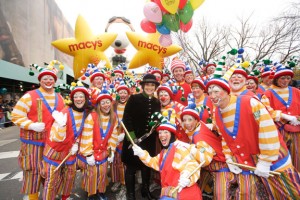 Amy Kule '87 was recently promoted to executive producer of the acclaimed Macy's Thanksgiving Day Parade and Macy's Fourth of July Fireworks Show. Like the character from "Miracle on 34th Street," this real-life Doris Walker has a year-round position with the company and oversees one of the biggest cultural events in America.
Contributing Writer Alyssa Frey spoke with Kule about her time at Ithaca College, her current job and the magic of Macy's.
Alyssa Frey: What was your major at Ithaca College? How do you think it prepared you for your job?
Amy Kule: I was a history major and an art history minor, but I spent a good amount of time working in the theater. When I went to school, my parents told me that a liberal arts education was the best education to have. Looking back now, I fully agree. So many schools these days offer such specialized majors. It's so much better to have an overview and complete understanding of the world.
AF: What clubs and activities were you involved in during your time at the college?
AK: I worked all four years in the theater. Each season of the theater I worked on a different crew. I got to work on the lighting, design, even scenery crews. I also was a part of the speaker's committee on campus, which brought engaging speakers and entertainers to the college.
AF: While you were in school and even after you graduated, did you ever think of doing something else?
AK: My mind was always set on working in entertainment in one way or another. In my head, my title was always producer — pulling all the pieces of something together, whether it was for television, movies or large-scale events, which is what I do now. The path wasn't clear for me but the end was.
AF: Are you glad you stuck with the entertainment industry?
AK: I actually started in the retail business with Macy's, and that kind of jump-tailed me into entertainment. Macy's believes retail is a form of entertainment, and my job reflects this — whether I am planning a new fragrance launch with a Kardashian or working on fine-tuning for the internationally known Macy's Thanksgiving Day Parade.
AF: What is your main role when you work on the parade?
AK: I pretty much oversee every aspect — the fans that are chosen, the balloons that float, the design of all the floats, all the entertainers that ride on the floats and walk the two and a half miles — everything. I also work hand in hand with NBC to prepare the broadcast of the parade that over 50 million people watch every year.
AF: At what point do you have to start preparing for any given year's parade?
AK: It honestly depends on which aspect of the parade you're talking about — there is a team that starts planning every parade a couple of years in advance. In fact, we do have a special eye on 2026 — the parade's 100th anniversary. I know that we have a responsibility to celebrate that in the right way. So it could be long-winded, but there are other aspects of the parade that are planned as close to production as possible.
AF: Do you get to see the magic of Macy's at work in your current job?
AK: There is great value in telling a person I work for Macy's, specifically the Thanksgiving Day Parade. There is a smile of recognition because everyone has either seen it, been to it or been in it. However, there are two special, magic moments for me on parade day — seeing the smiles on children's faces as they watch the floats … and the sound of the first drumbeat as the parade begins.
AF: What advice would you give to current students who are working toward achieving their dream careers?
AK: As you make your way through careers, you will find new jobs that you didn't think existed and new passions that you didn't know you had. Looking back on the last 20 to 25 years, the world has changed significantly, especially in the world of entertainment, marketing and retail. Had I been set on one specific goal, the markets and technology would have shifted me away from it. Make sure you have a strong liberal arts background, and never let go of the passion you have inside of you.