Before Cornell University offered a degree in architecture, it had already graduated one of Ithaca's most recognized building designers.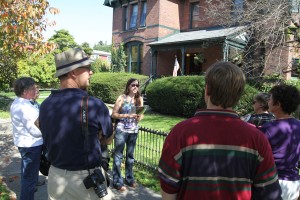 Combining beauty and functionality in innovative structures, local architect William H. Miller was a master of light, space and decorative details. To commemorate Miller's success and influence, The History Center and Historic Ithaca, which works to preserve historic buildings, have teamed up for events focused on the architect's life and influence in town.
Miller, born in 1848, studied at Cornell before the school had an architectural program. Miller started his architecture practice in 1871, and by the late 1870s he had earned a significant reputation within Ithaca and the surrounding area. Miller designed and remodeled more than 80 buildings in Ithaca and on the Cornell campus.
Mary Tomlan, a local architectural and planning historian, will give a lecture tonight about Miller's lasting influence.
"Miller's buildings attract a lot of people even though they don't know anything about them," she said.
Many of his buildings were designed with the Romanesque Revival style. One of Miller's most famous buildings embodying this style is Cornell's Uris Library. He was influenced by, and worked in, many other styles as well, including Gothic, Greek,
Colonial and Renaissance Revival.
The History Center exhibit gives a glimpse into Ithaca's architectural past and will also examine local historic preservation efforts.
The exhibit features information about specific buildings Miller designed, including the William Henry Miller Inn on Aurora Street, the Southworth Library in Dryden and the McGraw-Fiske mansion, which burned down in 1906.
Tomlan said she hopes to better inform people about Miller's influence on future architects and the buildings he designed that still stand in Ithaca.
For people who are unfamiliar with architectural terms, Kristen Olson, preservation coordinator at Historic Ithaca, will include a brief explanation of the vocabulary in the lecture tonight. Olson said she enjoyed the partnership between The History Center and Historic Ithaca.
"One of the important things about this event is that we're doing it together," she said. "It's a great topic to combine our two missions in just one event."
Paul Miller, director of education for secondary and adult programs at The History Center, is the coordinator of tonight's event. Miller, along with research librarian Mary Williams and visitor services manager Catherine Duffy, has spent approximately three months completing the William H. Miller exhibit and event. The lecture tonight is meant to be a more informal gathering where people can listen to lectures and ask their own questions about Miller.
"There are opportunities for people to listen to local experts," Miller said. "There is a range of talks we do and the intention is a non-formal lecture."
For Paul Miller, the architectural beauty of Miller's buildings contributes greatly to the town's look and feel.
"People are aware that there are certain buildings that Miller inspired or created, but I don't think people appreciate the breadth of his work," he said.
If You Go
"Built to Last: The Architecture of William Henry Miller" exhibit
When: Through March 2012
Where: The History Center
How much: Free
"William H. Miller, Architect: Exploring the Legacy" lecture
When: 5:30 p.m. today
Where: The History Center
How much: Free
Walking Tour of Miller's Works
When: 11:30 a.m. Saturday
Where: McGraw Tower, Cornell University
How much: $5 for members, $8 for non-members