Though they share overarching themes of light and new beginnings, each of the three fall productions in the Ithaca College Department of Theatre Art's lineup tells a vastly different story.
Whether the audience sees a soldier and salutes him after seeing "Plumfield, Iraq," finds love where they weren't looking for it, like in "The Light in the Piazza," or learns to use movement to share stronger feelings after"Illuminated Bodies," these shows all aim to shine new light on the raw power human emotion holds.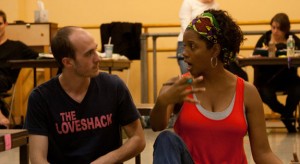 "Plumfield, Iraq"
The first fall show takes a socially conscious look at the effects of  contemporary war by addressing Post-Traumatic Stress Disorder, military families and the intensity of battle.
"Plumfield, Iraq," which premiered at UC Santa Barbara in 2008, tells the story of Cam and Mike, two friends from Plumfield, Wash., who enlist in the military hoping to pay for college. They are eventually sent to fight the war in Iraq. The show follows the characters' process of going through and getting over the war and its aftereffects.
Lee Byron, professor and chair of the theater department, oversees the choices that go into making shows at the college successful. A friend of Byron's suggested the play, citing it as topical and relevant to college students.
"The story is a fairly compelling story," he said. "It's more immediate in that it's of an age range that students can make closer connections and ties."
Senior Katie Peters plays four different characters in the show, including a soldier and Mike's girlfriend Beth, who she related to quickly. Peters said the way Beth's mind and emotions work is similar to her own relationship with her boyfriend now.
"It's something that I can respond to and have a truthful reaction a lot more easily," she said.
Peters said the most difficult challenge for her was transforming in different scenes from playing a girlfriend, to a soldier, to a reporter. She said she enjoys the opportunity to play multiple characters, but it's a complicated process to shift back and forth so quickly.
The cast is also working with real outfits and guns from the ROTC program.
"It's so intense," Peters said. "A lot of the gear is heavy. It's very intimidating to feel that feeling — getting into that outfit."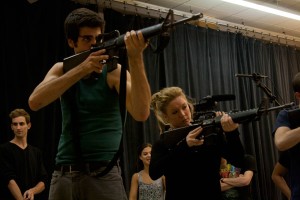 With "Plumfield," the department hopes to shed light on the effects of war from a more personal viewpoint.
"Light in the Piazza"
Without a plane ticket, passport or luggage, audience members can fall in love with the beauty of Florence, Italy, from their seats.
"Light in the Piazza" tells a story of romance, secrets and the obstacles people must face for love. Margaret and her daughter, Clara, go on a tour of Italy and take a stop in Florence. There, Clara meets and falls in love with Fabrizio, a romantic Florentine. Overprotective of her daughter, Margaret tries her best to keep Clara from him. The show takes some unexpected twists and turns that make this '50s-based story engaging, including a dark secret about Clara that Margaret doesn't want anyone to know.
Senior dramaturg Morgan Goldstein said the set design for "The Light in the Piazza" serves the show in such a way that will depict the grandeur of the area with a clean, fresh look.
"The set is amazing," she said. "It has this ability to capture and heighten every single emotion in this musical."
Goldstein said the production was chosen because of its emphasis on light and romance, elements director Susannah Berryman, associate professor of theater arts, wanted to bring to the stage this season.
"It is very operatic," Goldstein said. "It's really just the celebration of human life. It's a lot about the beauty and the fantasy."
"Illuminated Bodies"
Beyond the scope of scripts and songs, dancers find ways to express emotions words often can't explain.
The last of the productions will be the bright and new dance show "Illuminated Bodies." The department puts on a dance show every four years. This year, it will include two ballet pieces and two contemporary pieces.
Choreographer Amy O'Brien, instructor of theater arts, said the production process of this show is different from the others because she and Lindsay Gilmour, assistant professor of theater arts, are starting from scratch. They are working with student composers to create completely original melodies and music. O'Brien said she wanted to incorporate many aspects of art in their pieces.
"We're both using live musicians," she said. "I have a poet friend that's going to come, so we're trying to use community people, and then also the campus community people so hopefully the audience will be more broad."
Gilmour has a more modern dance approach to the choreography. Exploration of the mind and body are her inspirations.
"The body is a whole other way of communicating and learning and thinking," she said.
Byron said on the whole, the department selects work that will challenge the students.
"I'm sure there will be a surprise this year," he said. "There will be a show that I'm going, 'Boy this is going to really stretch us, or push us, or push our students.' All the shows have their own challenges, and they're all very different, so there will be many pleasant surprises."
"Plumfield, Iraq"
Directed by Cynthia Henderson
Previews Oct. 4
Opens Oct. 6
Closes Oct. 15
"Light in the Piazza"
Directed by Susannah Berryman
Previews Nov. 1
Opens Nov. 3
Closes Nov. 12
"Illuminated Bodies"
Choreographed by Lindsay Gilmour and Amy O'Brien
Previews Dec. 6
Opens Dec. 8
Closes Dec. 11