Last Saturday at the end of Garden Apartment 26, junior Mitchell Murdock methodically set up his tripod and 35 mm film camera to take a portrait of junior Griffin Nichols. With Cornell University and the late afternoon light on the rest of East Hill as the backdrop, Nichols stood relaxed and calm, posed but comfortable.
Murdock counted "One, two, three," and with the click of the camera, he snapped portrait No. 648.
On Nov. 19, 2008, Murdock began taking one environmental portrait of one person he knows every single day — and he has been carrying his camera and looking for people ever since.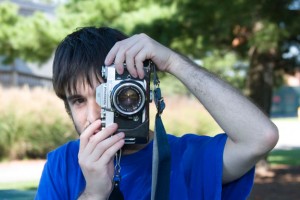 The project began his freshman year in his Introduction to Photography class. Murdock, a cinema and photography major with a concentration in cinema production, said he came up with the idea Nov. 18, 2008 as a way of challenging himself and improving his filming skills.
"I needed something that would get me doing photos consistently, because at that point I was just getting into film photography and I wasn't the best at it," he said. "I knew I needed something to kind of push me further through it."
The next day, he took a photograph of then-freshman Siobhan Cavanagh, a fellow student in the photography class. He posed her lying stomach-down on her bed with her elbows propping up her body as she clicked away on her computer.
Cavanagh said it was a good representation of one part of her life.
"He did a good job capturing me, or at least one aspect of me," she said. "He did a good job capturing the dorm-life aspect."
When Murdock began the project, he gave himself rules for each photo. He must take a photograph of one person within 24 hours, starting at midnight. The subject is the only one allowed in the picture. He or she must also be someone Murdock knows and vice versa.
Murdock said requiring himself to find someone he knows has helped to make the project more personal.
"I could go up to random people, but then I wouldn't feel as much of a connection with them," he said. "Plus I would rather take a photo of someone I know rather than … know someone only through that photo."
Though many students would have trouble finding more than 600 people they know to photograph, this has not been a problem for Murdock. His mother, Elena Murdock, said he has always had a friendly and comforting personality.
"It's the whole thing about how he connects with other people," she said. "It's almost like a person's age doesn't matter. … It doesn't matter how he meets them. He just gets to know them."
Murdock said when he began the project, he wanted to capture a piece of each person in a photograph. Murdock said he managed to do this particularly well in photo No. 48 with the portrait of David Stankowicz, his former high school teacher.
The picture shows Stankowicz looking to the left of the camera, off into the distance with a stony, concentrating expression. He wears a furry hat, coat and scarf, and his big circular glasses seem to sparkle with the
reflection of the street lamps.
Stankowicz said Murdock's gentle and open demeanor helped to make him feel at ease while his photo was taken.
"He has an endearing quality about him that makes everyone really like him, or if not like him, at least feel comfortable around him," Stankowicz said. "He just put me at ease and took my picture. His rendering is honest and reveals something that other people haven't been able to do."
Becoming a skilled portrait photographer has been a part of a long journey for Murdock, who began the project with little experience with film. Because of his lack of experience, there have been a few images Murdock said he is not proud of.
One of his least favorite photos occurred on day 20. He took a picture of then-freshman Alex Henes in the photo lab. The image, which depicts Henes staring blankly at a computer, is slightly blurred and dark. Murdock said photos like these are embarrassing to include in the project.
"It's just splotchy and really just weird looking," he said. "I don't know how I messed up that badly, but I did."
As part of his rules, Murdock must also develop all of the film himself. He develops two rolls at a time when he gets the chance. Then he scans the negatives electronically and uses Photoshop to erase dust marks and other developing flaws.
At the end of the process, he stores the photo safely on his computer and the negatives in a large maroon binder. It's a long process, though — there is currently a year's lag between the photos he has taken and those that have been developed.
As was his original plan, Murdock said the project has improved his filming style.
"My recent film projects, they've had a more portraiture feel," he said. "A lot of them involve just people or people's faces. I feel my film is more lively than it used to be and less still."
Over time, Murdock said the project has simply become a part of his daily routine, something he does without hesitation or much consideration.
"One thing that just keeps me going is that I love doing this," he said. "By this point, it has just kind of become natural to me. There is a point in the day where I think, 'I should take a picture of somebody or else it will be too late.'"
For now, Murdock said, he has no plans for what he will do with all of the photos — whether they will be shown in an exhibit or simply left on display on Flickr. As for when the project will end, he said he is waiting for a good reason for it to stop — a moment he said will be bittersweet.
"The last day of the project is going to be the day I don't take a photo," he said. "It could be anytime."
To see some of the portraits Murdock has developed so far, go to www.flickr.com/photos/mitchellpatrickmurdock.