When best-selling author, travel writer and bicycling advocate Joe Kurmaskie first moved to Portland, Ore., he was sometimes mistaken for a homeless man when he took his kids to preschool in a trailer attached to his bike. Now he's gained a following.
At 7 p.m. today in Textor 101, Kurmaskie, also known as "The Metal Cowboy," will "perform" his stories of the road. His work first found its way into print when he was an editor of a newspaper and needed to fill space. This led to his outdoor column, from which he wrote five books. His latest book "Mud, Sweat, and Gears," details his ride across Canada with his family.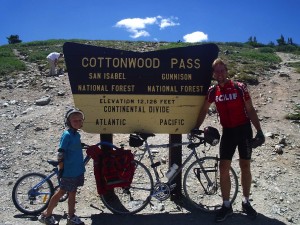 Staff Writer Gena Mangiaratti spoke to Kurmaskie to learn more about his work, family and nickname.
Gena Mangiaratti: How did you get started doing what you're doing?
Joe Kurmaskie: I got my start when I was in fourth grade. It would suffice to say I wanted to see the world on my bike and write when I was in elementary school, and I eventually did that when I was 19. Just thought it was a great way to see the world, the right tempo. It was also a cheap way to do it because I had no silver spoon — I was just raised middle-class. So I did that, and it made all the difference. I was taking a little time off from college launching a bike and canoe touring company, and I decided to ride a bicycle from Maine to Florida. That became a sort of skeletal structure of what eventually became "Metal Cowboy."
GM: You put a lot of detail and observations in your writing. Is this purposeful?
JK: I don't shy away from politics or environmental issues or picturesque scenery or what have you in my writing. You can entertain people with humor, you can punch them in the gut with whatever satire or issues you want, but you can't preach to them. You can speak some truths along the way if it serves the story.
GM: When you travel to speak, how do you usually present your work?

JK: I've always been sort of a storyteller and … I do not read from my book, I perform. I'm a rock-on-tour Mark Twain-esque entertainer of sorts. There are slides, there are images. The slides aren't like "Loon, Bird of the North Woods" that bore people to death. It's to set up and punch-line different stories. So it's a multimedia performance, and it's fun. It's biting at times, it's introspective and it's looking at wider issues as well from advocacy. That's how I wrap it all up, in humor and sort of straightforward forthcoming-ness and a bit of wondering off about the world with all of its warts and all.
GM: It sounds like you have had a lot of adventures on the road. Do you ever find yourself getting less easily scared because of all these different experiences?
JK: A lot of people would think the way I've lived has been all MacGyver moments, but it hasn't. I mean riding across the Australian outback was a bit dicey by bicycle, but I also follow the sugar train. I always have the train right alongside me. I've never totally ridden it off the rails — if you appreciate that expression — for me anyway. … When we went across Canada people were saying "Wow, Canada, you're way out there." I'm like, "Well, Canada is part of the United States practically." It's good to learn how to use your own inner resources. I mean, back 100 years people went back across the country. Those were the real [adventurers] — I'm just a cardboard cutout of an adventurer compared to a bygone era. So I never felt too scared or in danger.
GM: You're married with four boys. How do you balance your family life with your riding?
JK: I take the family. That's the other thing. My first couple books were really the stories of a young man exploring the world and learning and himself and my limitations and what have you. The last two books have been how to keep the adventure going in the same way but how few of us realize that you don't have to stop living just because you have a family. You don't have to ignore the family, you can incorporate them, whether it's canoeing or biking. The passions that you had when you were younger don't have to die when you have a family. You can adapt them, and it's a heck of a lot better than giving them Xbox carpal tunnel, sitting in front of the couch and playing video games. It's a better way to live, I personally believe, and it would be a great thing if we could rescue families from the couch one expedition at a time.
GM: Where does the name "Metal Cowboy" come from?
JK: I will perform that story. I don't want to give it away, but it involves a rainy morning, a blind old rancher and bit of poetry.