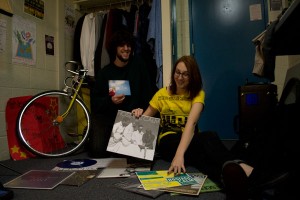 After moving to Ithaca from their hometown in Connecticut, sophomore Greg Tilden and freshman Sara Gaechter were disappointed with the local music culture and are now working to bring a new indie sound to the city — one punk rock band at a time.
Nostalgic for their high school music scene, punk rock fans Gaechter and Tilden founded Odyssey Booking, a company focused on bringing punk music and culture to Ithaca.
While the booking company's main goal is to bring bands to Ithaca that normally wouldn't get a chance to play in the town, Gaechter and Tilden said they also aim to replicate their former music scene as whole. The pair plans to create a vibe similar to the punk community in Connecticut by giving all of their concerts a comfortable, homey atmosphere.
"I guess we want a do-it-yourself vibe, just very laid back, a concert where you walk in and you don't get a stamp on your hand or have to wear a wristband," Tilden said. "We just want a vibe where anyone can come and feel welcome."
Tilden said the idea for the agency came after he attended concerts last year. He said the music acts invited to Ithaca didn't meet his hopes, so he wanted to book new bands that played music more tailored to his interests. To help him get the company together, Tilden decided to enlist his longtime friend, Gaechter, to partner with him.
"I always thought that I'd like to become a part of the scene and start booking shows," Tilden said. "I couldn't really do it myself, however, so when I found out that Sara was coming to Ithaca College, I was like, 'All right, let's do this.'"
Gaechter and Tilden first met in their home state through the local punk music scene. Gaechter said the punk rockers in the area are a tight-knit group, which helped spark her and Tilden's interest in punk music. She said it was frustrating to come to Ithaca and see fewer outlets for punk rock fans.
"We were a part of this exclusive music scene at home," Gaechter  said. "We are trying to work together to figure out a way that we can incorporate a little bit of the scene back home here."
To help create that atmosphere, the duo intends to bring a vegan potluck, a tradition from their hometown music scene, to Ithaca. Before each show, fans and the band bring a vegan dish to share and eat together. Gaechter said the tradition has helped bond the audience with the band or artists, something she said is important in punk culture.
"For our concerts, we don't want it to just be a band and the fans," Tilden said. "We want to integrate them together, to make them a part of each other. We want a community."
Odyssey Booking sponsored its first concert Nov. 10 at the GreenStar Warehouse on Buffalo Street. Caravels, a post-hardcore band straight out off a tour in Las Vegas, was featured in the show. Freshman Nathan Krauss attended the show and said he would like to see more acts like Caravels in Ithaca.
"I thought the concert was a lot of fun; everyone had a good time," Krauss said. "Hopefully they'll book more great bands to come up and play in Ithaca in the future."
Gaechter and Tilden are working to bring New Jersey-based indie punk band Brick Mower to Ithaca in late January. Gaechter said the true success of the company won't lie in how many shows it books or how much money it makes. The telltale sign, she said, is whether people are enjoying themselves at the shows they put on.
"A kid came up to me the other day and gave me a high-five and said he had the best time at our Caravels show," Gaechter said.  "And for me, that's being successful."