On the corner of Seneca and Tioga streets in downtown Ithaca, people are piling onto the No. 13 bus at a rate rarely seen in car-obsessed America. Taken out of context, the scene might be mistaken for the inauguration of a new bus route or a protest against the high cost of gasoline, but it's not. This is the bus to Brewfest.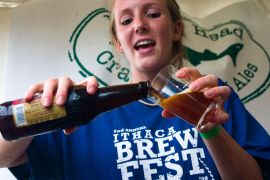 A brewfest is a gathering of craft brewers offering beer tastings in a festival setting. Ithaca Brewfest is hosted by the Ithaca Beer Company and includes more than 30 brewers, food, music, merchandise and the picturesque backdrop of Stewart Park on the shore of Cayuga Lake.
Dan Mitchell, the owner of Ithaca Beer, said he was inspired to start Ithaca Brewfest last year because so many other brewfests already existed, and Ithaca didn't have one.
"For us, it's all about the setting," he said. "It's more than just coming down and drinking beer. You've got local food vendors, local bands; it's a much nicer setting than a lot of places I've been."
The bus to Brewfest is populated mostly by college students. Conversation is light, easy and mostly about getting drunk.
But for Mitchell, Brewfest isn't about drinking. It's about tasting and appreciating the craftsmanship of beer.
"What we're trying to do is educate the consumer on what craft brewing is all about," he said.
Still, Mitchell said many Brewfest visitors misinterpret that message. He relies on event security, police and even his own staff to keep an eye out for people who have had too much.
Like most large outdoor festivals, Brewfest takes on a life and logic of its own after an hour or so. The people from the bus to Brewfest run into each other periodically, smiling knowingly — or drunkenly — at their shared experiences. A brewer agrees to trade a pint of his beer to a volunteer for a pulled-pork sandwich.
As the event wears on, the difference between the drinking crowd and the tasting crowd becomes more obvious. But Brewfest visitor Doug Lockwood, a Cornell Dining employee who lives in Ithaca, feels even those who come to Brewfest to get drunk leave with a better understanding of craft beer.
"I don't think you can help but be exposed to the craftsmanship here, that's the whole way it's set up," he said. "Everybody's talking about the beer. It's not about, 'I'm feeling buzzed from this one,' or 'I've already had eight of these.' It's, 'This one tastes good,' 'I like the flavor of this one.'"
Senior Alyssa Zahler said she went to the event with the intention of both drinking and tasting, and enjoyed listening to brewers talk about their products.
"My favorite beer at the festival was actually from a brewery in Horseheads, N.Y.," she said. "They had this amazing pumpkin beer. I learned about that and got to talk to the people who own the brewery, which was awesome."
It was the number of breweries present at Brewfest that impressed Lockwood and his friend Steve Montross, of Tully, N.Y.
"They all seem to want to show off their beer," said Montross. "They want to tell you about it."
Lockwood, Montross and other visitors to Brewfest were eager to listen. Two such visitors were Stephanie Egan '06 and Ryan Engels '06, who came to Brewfest looking to learn about craft brewing.
The recently engaged couple purchased 70 acres of land in nearby Brooktondale in July and is hoping to eventually grow hops, one of the most basic ingredients in brewing beer, either for local brewers or for their own use. For them, Brewfest is not only a learning experience, but also an opportunity to show their support for the local brewing industry.
"We try not to buy any beer from breweries that have commercials on TV because they're wasting their money on advertising," Engels said.
Of the breweries present, Delaware-based Dogfish Head was the star. Lockwood, Montross, Egan and Engels all mentioned the brewery's booth, which had the longest line at the festival for most of the day.
The brewery offered two popular beers. The first one, Raison D'Extra, is a beer flavored with raisins that has an alcohol content of at least 18 percent. This attracted the drinkers. The second is a beer called Chateau Jiahu, which is a modern interpretation of an ancient Chinese recipe. This attracted the tasters.
The two groups mingled peacefully in the line. Regardless of whether they had come for the taste or for the alcohol content, they were all there for the beer.