Take one part student lounge, one part high-end café, add a dash of dessert, late night hours and the best view in Ithaca to create the successful recipe of tc lounge — the newest late-night hotspot on the Ithaca College campus.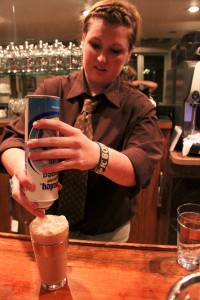 Located on the 14th floor of East Tower, the lounge provides a sophisticated atmosphere for students to study, meet friends and enjoy quality coffee, teas and desserts long after La Vincita has closed. After the Tower Club restaurant closed last May, the college decided to revamp the space and make it more suitable for student use.
Junior Joe Bergeron said he was blown away by the quality of the lounge when he first visited.
"This is a classier Late Night," he said. "We have a hotel-quality café on campus. It's similar to a hotel lobby but much more friendly for college kids. It doesn't feel like the Towers. I forget there's a dorm under my feet."
The tc lounge serves drinks in large, café-style cups that hold copious amounts of coffee and offers a wide range of desserts. It accepts Bonus Bucks, credit cards and cash, making it more accessible for students without a meal plan.
Students can share the "Le Grande" coffee, with enough for six people for only $5.29. Most smaller specialty drinks run closer to $4. The café serves brownies, chocolate cake, and an assortment of other chocolate desserts like fondue as well.
Jeff Scott, director of dining services, said once the decision was made to close the Tower Club, it was a quick turnaround to get started planning the tc lounge. He said he wanted to make sure the new space focused on student needs. With a new paint job and new furniture, Scott said the space has a contemporary feel that has been well received by students.
"We worked with students, and our [Student Government Association's] food services committee looked at other examples of other successful campus cafés and through the process realized the late-night time period is key for students to relax, study, go online and meet friends," he said.
Sophomore Sarah Hesseltine said the service, including busboys to clean up dirty dishes, makes it seem more like a retail establishment.
"It's like a pretentious Starbucks," she said. "You wouldn't expect to find a place like this on a college campus. But it's also really laid back. It seems like a really great place to bring friends."
Open from 8 p.m. until midnight, the tc lounge benefits from a campus full of night owls. There was a consistent long line last Thursday filled with students chatting and greeting friends, all while the barista, freshman Kaity Conklin, whipped up one drink after another. Conklin said even in the two short weeks the lounge has been open she's seen a lot of customers.
"Sometimes I go for a straight hour without stopping," she said. "We've been really busy. But I like the crowds, because I like being able to talk to other college students."
Scott said part of the reason for the lounge is that Late Night at the Towers Dining Hall was hitting capacity with more than 1,000 students a night. Dining services wanted to offer another option for students in the evening, especially during the 8 p.m.- to-midnight rush.
"Students need a place to go late at night to get a cup of coffee or meet their friends," he said. "We were confident that [the tc lounge] still would be a complimentary service, rather than competition with Towers."
Henry Chan, tc lounge supervisor, said he plans to change the menu every so often to keep things new and is striving to work with local vendors, such as Life's So Sweet chocolates in Trumansburg, as much as possible. He said the reason the lounge has been so popular is because it offers a different experience than anywhere else on campus.
"It's surpassed our expectation in terms of the people," he said. "Eventually we will expand our hours, but it's going to take more than a week to see what the trend is going to be."
Chan said tc lounge's classier look allows students to have a different kind of dining experience on campus.
"For at least a few hours when they're here, they forget that this is a college campus," he said. "The atmosphere lets you step out of the real world."
tc lounge is located on the 14th floor of East Tower and is open Sunday through Thursday from 8 p.m. to midnight. Its official Grand Opening is Tuesday, Sept. 28.