Cornell University graduates Jesse  and Jeremy Veverka, co-directors and producers of the documentary "China: The Rebirth of an Empire," knew the journey to produce their first feature-length film was going to be difficult.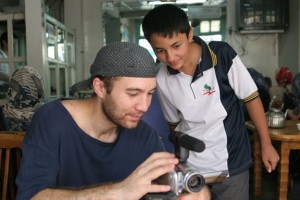 "We went into it knowing it was going to rule our lives for the next couple of years and take a lot of money and pretty much everything we had resource-wise," Jesse said.
After two-and-a-half years of traveling, filming, editing, promoting and distributing, those resources came together in an 86-minute documentary that will be screened at 7 p.m. today at Cinemapolis.
The film explores the future of China: whether it will grow as an imperialistic empire or as a democracy. The documentary features famous experts as well as ordinary locals the Veverka brothers met on their travels. Featuring a wide range of perspectives, the documentary shows how China's burgeoning power impacts the world.
After receiving a Fulbright grant to study as a graduate student in South Korea in 2003-04, Jesse '00 was struck by China's global influence. Jeremy '09 took a five-year break from his studies during which he traveled to 50 countries before returning to finish his degree. Both inspired by their extensive travels, the brothers teamed up to produce the film.
The trip has taken both of the Veverka brothers through Pakistan, Japan, South Korea, Nepal, India, Taiwan, Hong Kong and China. To fund all of their travels, the brothers used savings, a number of different grants and money earned from working during post-production. The film went on to win Best Documentary in the Central Florida Film Festival earlier this fall and is still being released at different film festivals.
Filmed in a three-month period, the brothers visited major cities and capitals as well as rural areas such as Western China. Jeremy said the work was tiring, but it was exciting because everyday was packed.
"You would finish your shooting by dinnertime and you would be exhausted and want to go to sleep," he said.
Wanting to receive feedback on their work from a diverse population, the brothers initially screened the documentary in September 2009 at Cornell, where they connected with Cornell graduate student Yue Yu.
Yu, who had arrived in the United States from Mainland China two months before the rough screening, said the brothers asked him to appear in the film.
"They also want to hear from the voice of the Chinese young students — the Chinese youth," Yu said.
Ithaca College students also helped the Veverka brothers and worked on the film.
Charlotte Kramer, a senior at the college and summer intern for Veverka Bros. Production Company, said the film offers cultural significance.
"It provides a voice and gives people who don't have a voice a voice," Kramer said.
Senior Christopher Knight, who assisted the brothers in shooting Yu's interview, said the experience was immensely valuable because his work will be shown in local venues.
"I didn't really expect the film would get into local theaters like this or be in local festivals," he said. "I'm surprised it's so well received thus far, so the small part that I had involved in it, it does feel kind of nice to see my name on the credits for this piece."
For the brothers, both Ithaca natives, showing off their work at a local venue is especially rewarding.
"There's something specifically thrilling about the Ithaca screening I'm looking forward to because it's like really sharing it with our community," Jeremy said. "A lot of people know that we've been working at it for more than two years now, so it's nice to be able to show friends and family."
Jesse said the film's message holds importance for years to come.
"This is kind of the biggest practical thing that will affect the daily lives of people in this generation and the next to come," Jesse said. "We're going to live in a world in the future where it's not the U.S. dictating world policy for everyone but that China will have much more influence on that."
Jeremy said China's growing influence will change the world.
"This sort of astronomic rise of China really is going to redefine the world as we know it," Jeremy said.