From modern dance to meditation, bright city lights to impoverished communities, Lindsay Gilmour has done and seen it all. After dancing around the world, she landed at Ithaca College and is continuing to develop her love of dance and Buddhism in a community that embraces the arts and houses a monestary.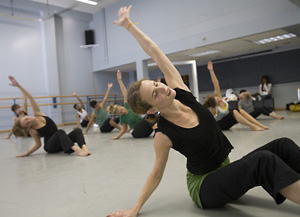 "I had no idea what a wonderful community [Ithaca] is," Gilmour, an assistant professor of dance and lecturer, said. "I was really lucky, it's a really, kind of artistic, open, inquisitive community."
The quirky atmosphere of the city is a perfect fit for Gilmour, who encourages self-expression in her Modern and Introduction to Dance classes at the college.
Diego Vasquez, a fifth-year music major with an outside field of dance, said almost anything goes in Gilmour's free-spirited classes.
"You use a lot of the technique that we learn in jazz and ballet and kind of let it go," Vasquez said. "It's a whole new way to express. Nothing is wrong in that class."
Gilmour grew up in Southern California, attended college in Montana and spent three months working and dancing in France. From there, her interest in Buddhism took her to India. Gilmour said she wanted to independently organize her visit, which proved to be a difficult task.
"It was probably the hardest experience of my entire life but amazing at the same time because I figured everything out," she said.
While in India, she worked on a farm for six months. She also worked for the Mother Teresa Missionaries of Charity in Calcutta, which she said increased her awareness of poverty and inequality.
"That really got my brain stirred up," Gilmour said. "I had focused on dance for my whole life but then going to India just kind of threw everything upside-down."
Gilmour worked as a professional dancer in New York City after her return to the U.S. and has since lived in Guatemala, Ecuador, Peru, Thailand and Nepal. She went to Tibet last summer and said she plans on returning there this summer.
"I feel like traveling gives me such perspective on life," she said.
As a result of her travels, Gilmour is active in the Namgyal Monastery in Ithaca, where she takes classes in Tibetan language and Buddhist philosophy. Though she has not officially converted, Gilmour practices Buddhism and said she hopes to spread information about the religion to other people.
Eliza Silverman, a senior acting major, said Gilmour often teaches her students about Tibetan culture and human rights issues. These lessons work their ways into Gilmour's classes and her extracurricular choreography.
"There's always sort of this element of worldliness," Silverman said. "There's a greater focus."
Gilmour attended two of the Dalai Lama's recent events in Ithaca, but said her main experiences with His Holiness happened when she was in India. They were on the same plane from Delhi to Ladakh, and Gilmour was able to personally listen to his teachings for two weeks in Ladakh.
Gilmour brought this passion to the college campus and is now the faculty adviser for Students for a Free Tibet, a club that will raise awareness of social issues in Tibet. Gilmour's experiences have also left an indelible impact on her dancing. She often choreographs pieces around human rights subjects, always communicating a message and often involving the struggles of Tibetans — like a piece performed in March about the life of an imprisoned Tibetan nun.
"Her dance style is very liberating," Silverman said. "It allows a certain amount of freedom. Within that, she really pushes us to play with dynamics — to play with different types of movement, to really go out of our comfort zone, to really take risks."
Gilmour's Introduction to Dance class specifically examines dance and cultures around the world, but global messages permeate all of her activities.
"Keep an open and inquisitive mind," Gilmour said. "Keep questioning and learning about other cultures, because it infuses your life with so much. You realize that we're all connected, even though we might speak a different language or have a different religion. It just opens up your eyes.