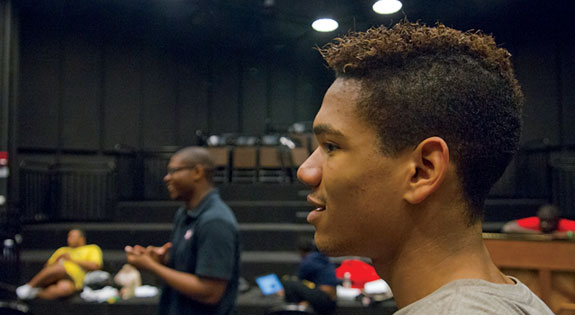 A double major in drama and sociology, sophomore Brittany Carey has always believed in using theater as a vehicle for social change. But when she joined the cast of Kuumba Repertory Theatre's upcoming production "Marcus; or the Secret of Sweet," she realized just how much theater could impact a person's beliefs, especially about important themes that go unnoticed.
Kuumba is the sixth principle of Kwanzaa; on this day families focus on their ancestry and unity as a culture. Traditionally, Kuumba art forms focus on exploring the creativity and mindset of racially diverse playwrights. Kuumba Repertory Theatre began at the college in the '60s when a group of students felt the college's theater repertoire lacked a diversity on important topics such as race,
ethnicity and sexuality.
"It was thriving, and it did productions like this all the time," director and senior Katherine Turner said.
Turner said that the group began fading away in 2006. When she came to the college as a freshman acting major, Kuumba no longer existed. After spending the fall 2010 semester at the Eugene O'Neill Theater Center in Waterford, Conn., Turner came back in search of fellow students who shared her vision for theater at the college. While on this search, John Rawlins, assistant director of the Office of Student Engagement and Multicultural Affairs, said to Turner that Kuumba theater's ideals and practices ran in tandem with their goals for a company."Bernadette [Carter] and I … decided to bring back because we felt that there was a lack of diversity in the theater that went on at Ithaca College," Turner said.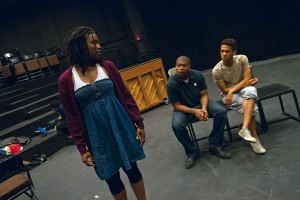 Turner, alongside Carter, recently invigorated Kuumba with acting showcases and play festivals after its revival at the college. But, it wasn't until this semester that Turner found a play she believed would speak to the college community. When Turner read through the script, she knew "Marcus" would be the perfect fit for Kuumba.
Written by Tarell Alvin McCraney and first performed in 2007, "Marcus" is the last play in McCraney's Brother/Sister trilogy. Set in Louisiana, the trilogy's third component contemplates questions of sexuality, individualism and the importance of growing older. Turner wanted to direct the show because she instantly fell in love with its story.
"I read this play, and I loved this play, and I said 'This is perfect,'" Turner said.
Turner said the social issues addressed in "Marcus" will impact a college audience.
"It really is connected to what's going on in the times, because in the play it touches on Hurricane Katrina … and race and sexuality, which are huge things that are still being talked about, have been talked about forever and probably will be talked about for a while," Turner said.
Sophomore Ashton Muniz plays the titular role in the show, a teenager struggling with both internal and external identity. He defends questions about his sexuality while trying to come to terms with troubling dreams about the future of society.
Turner describes the character as having many battles.
"[He's] trying to figure out his sexuality as well as his place in his community and in his culture," Turner said.
This show marks Muniz's first serious lead role. Muniz joined Kuumba after Turner approached him about the trilogy last semester. Muniz said he was immediately attracted to the show but that Turner was the leading lady behind the planning.
"When Katherine has her mind set on something, she follows through with it,"
Muniz said. "It started out as an idea, but she really wanted to do it and wanted to direct something her senior year."
Many of the play's plotlines descend from Yoruba mythology, a religion originating in southwestern Nigeria and parts of Ghana, while most of the characters' names throughout the trilogy derive from Yoruba "orishas," or deities.
Eshu is known as a Yoruba "orisha" who represents crossroads and chaos. This symbolizes what Marcus goes through internally during the play. Turner said this is one of the more fascinating parts of McCraney's writing and what makes him a talented playwright.
Carey, who plays Marcus' close friend Osha, said after reading the play, McCraney's talent made her even more excited about the production than she already was.
"I read the script, and I was like, 'Oh, wow, this is really beautiful,'" Carey said. "I'm really in love with the playwright. I saw one of his plays last year, and I fell in love with him and his writing, so I'm really excited to do this."
Osha, who is attracted to Marcus, is a beautiful young woman who battles between
loving herself and accepting someone else's love. Carey describes her character as one with a journey running parallel to that of Marcus.
"She's going on the same journey [as Marcus] and trying to figure out what's her place and why [she wants] someone else to love her and what that means to become a young woman," Carey said.
Though "Marcus" is focused on one person's specific — and fictional — story, Carey wants audience members to see these issues' bigger pictures as they leave the theater.
"I would really like people to leave the show thinking of how they grew up and asking what it means to become a young adult," Carey said. "What does it mean to question your sexuality and question who you are? Why do we accept so many people but not others?"
"Marcus; or the Secret of Sweet," will be performed at 8 p.m. tonight in Dillingham Studio 2