Hippies, hipsters, posers, locals, musicians and students — a motley crowd has descended upon Castaways on a cold February night to experience one of the hottest funk bands in Ithaca. Even before the six members of the Rozatones take the stage, the anticipation in the packed music venue is palpable.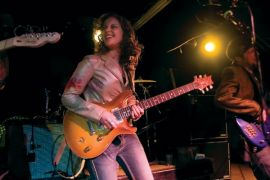 Mere moments into the band's first song, "Open Wallet," the crowd is already exhibiting symptoms of advanced Rozatones fever: swaying hips, gyrating pelvises and expressions of uncontrollable excitement on every face. "Open Wallet" is a fan favorite, and it looks like the band is loving it too.
Ithaca College seniors Mike Conerty and Sam Podell hold down the brass section, wedged comfortably on the left end of the stage. Podell's fellow band members refer to the trumpet player as the "hair" of the Rozatones because, well, he's got a massive 'fro. Conerty is famous for initiating the Dino Stomp, a simple side step-clap combination the audience can do during select songs.
On the opposite end of the stage, hidden behind his double-decker keyboard, is Adam Gold, who just joined the band in January. A one-man parade of goofy faces, Gold is also a member of the Syracuse-based funk trio Sophistafunk. Oh, and some girl in the audience thinks he "totally looks like Michael Phelps."
The steady drumming and occasional nasty solo come courtesy of senior Byard Duncan, also a senior writer for The Ithacan. When he's really into a song, he gets lost in his performance, and it shows on his face. Sometimes he furrows his brow and bares his teeth like a gopher. Other times he sports a dazed expression and just sort of lets his mouth hang open. Either way, he's feeling it.
The guy in front of Duncan, the one with the well-groomed goatee and sick hoedown-inspired moves, is senior bassist Miles Crettien. Keep an eye on him for a while to catch a glimpse of Machine Gun Bass, a move in which Crettien literally grips his instrument under his arm like a fully automatic firearm, sending a barrage of funk-filled bullets out to the audience.
And then there's senior Revital "Revi" Roza, the lead singer, guitarist and heart of the Rozatones, standing front and center. At 5 feet 4 inches, the fiery-haired siren is the smallest member of the group, but undoubtedly packs the strongest punch. Whether she's belting out the lyrics to "Stop Right Now" or serving up the more sultry tones of "Forbidden Part 2," her gritty vocals and slick guitar work pierce captive audience members, gripping their souls and opening their minds.
Channeling the passion of Janis Joplin, one of her strongest musical influences, Roza injects the crowd with infectious enthusiasm. She projects each lyric, words she wrote herself, with a spunky flare and undeniable stage presence. The audience sings along absentmindedly, their entranced bodies constantly in motion.
The people in the crowd, both regular fans and curious newcomers, are dancing in unison now and sloppily singing along to the upbeat music. Based on the overwhelmingly positive reaction from the audience, which includes a demand for an encore, everyone seems to be thrilled with the show tonight.
Everyone except the Rozatones.
A Little Fine-Tuning
The band meets for practice two weeks later at Roza's South Hill apartment, and it's a sobering experience. The consensus is that the Castaways show had some serious problems, a feeling that only becomes stronger when everyone gathers in the living room to listen to the recording.
Moans and groans begin almost immediately. Podell buries his face in Roza's huge leather couch to avoid making eye contact with anyone — and to muffle his screams of terror. One section of the recording causes Duncan to burst out laughing and drop his magazine.
The mistakes in the recording are like the shrieks of a dog whistle catered to the Rozatones' ears. Band members are the only ones who would notice the occasional lack of tightness or overuse of reverb; no one in the crowd that night suspected a thing. It's clear the Rozatones are their own harshest critics, but after spending three years building their reputation, they kind of have to be.
"When we're at this level, people expect us to deliver a certain caliber," Crettien said.
But getting to that level didn't happen overnight. In their early stages, the Rozatones considered themselves a jam band, focusing less on style and songwriting, and more on instrumental interludes and improvisation. Crettien recalls the band's first gig sophomore year, upstairs at the now-closed Juna's Café on The Commons.
"People were really digging it," he said. "We covered Blue Bossa and some Phish tunes, and everyone was grooving."
The band's jam roots have spread considerably since then, picking up a diverse array of musical influences along the way. Now a solid fusion of funk, soul, rock and even Latin jazz, the Rozatones are fully aware of how they've grown as a unit.
"We're getting to the point where our song structure is becoming a little tighter," Conerty said.
They want to keep this momentum going, so they do what any band does to fine-tune its sound: they practice.
The Rozatones' rehearsal space is a small, dark room in Roza's basement. The ceiling is low, the shelves are slanted and broken, and the only light in the room comes from a single bulb that hangs awkwardly from the rafters.
"We're kind of a dirty basement band," Podell said.
This is where the group does its thing, jamming out, coming up with new tunes and perfecting those already in its repertoire. On this particular day, the band is trying to put some ideas together for a still-untitled song that's been stewing for a while. The lyrics will come later. For now, it's all about the music.
Roza gets the ball rolling, strumming her Paul Reed Smith guitar with a quiet determination as she gives the rest of the group a chance to slide into the groove. Crettien joins in, adding a smooth bass line to complement Duncan's steady beat.
At one point, the Rozatones inadvertently position themselves in a circle, creating an imaginary pot into which each member can toss ingredients. It's a welcoming environment that accepts each offer in order to turn out something that accurately represents the group as a whole.
"We don't turn anything down when we're writing, but what we'll do is make suggestions," Roza said. "If I don't like something I'll say, 'Well how about this instead?' That's what really keeps our flow going. As soon as anyone starts being negative, it just ruins everything."
Silence is unofficially a four-letter word at Rozatones practices. The members carry on a constant conversation, alternating between using their mouths and their instruments. In the rare moments that no one is making any noise, a residual hum lingers and ricochets against the basement walls.
This goes on for hours.
Meet the Rozahos
While the group rocks out in the basement, Roza's five roommates go about their business upstairs. Behind every great band is an army of die-hard groupies, and the Rozatones find theirs in Roza's roommates: seniors Jen Nevins, Nellie Norden, Rachel Roscoe, Emma Strachman and Jesse Wakeman — better known as the Rozahos.
"The Rozahos are the female friends, fans and roommates of the Rozatones," Roscoe said. "We try to make it to every show, we know all the songs and we're always up front."
The duties of a Rozaho are simple, but crucial. On any given night, one might be expected to fetch a beer for a sweaty band member, help Roza settle on an outfit for a performance or even mouth lyrics to her if she draws a blank during a show — like a human teleprompter.
As for the band practicing in their house, the 'hos have no complaints. In fact, when Roza approached them earlier this semester asking for their permission to move the practice from the James J. Whalen Center for Music, where they rehearsed on and off for the past three years, they were only angry she hadn't come to them sooner.
"You can decide how much of it you want to hear," Norden said. "If you just want a little background music, you listen from upstairs. If you really want a show, you come down to the living room and pretend to do your work."
And the Rozahos' love of the band has spread to their families back home.
"My cousin's No. 1 Christmas wish this year was a Rozatones CD," Nevins said.
The album she's referring to is "Tastes So Good," which the Rozatones recorded in summer 2007 at Morning Star Studios in Spring House, Pa. With eight original tracks, the album was intended to be a demo of sorts. The band has since recorded a second album, "Body on the Move," which should be completed in a couple of months, according to Roza.
"Sometimes we just prefer to listen to their music over other bands," Wakemen said. "And it's not just because Revi's our roommate. Like, it could just be some bitch, and it would still be cool."
Roza said she's grateful to have such a strong support system and is always confident that her friends would have her back in a tough situation.
"The Rozahos are mah ladies," Roza said. "They're some of the greatest people I've ever met — and they're damn sexy."
Live from New York, It's the Rozatones!
The band always tries to bring its "A" game to the stage, whether playing a standard gig at a local venue or showcasing its talent on national television — an opportunity the group received this past summer when Roza interned for "Good Morning America Weekend" in New York.
During an online background check, Roza's supervisors discovered that she and fellow intern ShaLyse Walker were singers and decided to pit them against each other in an original competition they called "Intern Superstar."
The battle began Aug. 17 at Union Square, where Roza was joined by her fellow bandmates for a televised sing-off. Even with a backup choir, Walker's original song "Not Enough Room" was no match for the Rozatones' "Open Wallet," which not only won over the assembled crowd, but the American public as well — Roza clinched a victory by nearly 100 online votes.
The on-air performance was set for Aug. 24, just four days before the start of the fall semester. Operating on only two hours of sleep, the weary-eyed Rozatones set the show's Times Square Studio on fire with a surprisingly energetic rendition of the winning tune, "Open Wallet."
For Roza, the hardest part wasn't gathering the courage to perform for a national audience, or even finding the energy to rock out at 6 a.m., but having to cut the song down from almost six minutes to a mere three to fit into the program's schedule.
Conerty appreciated the added exposure that a national platform gave to the Rozatones.
"Not a lot of people have heard my band back home," Conerty said. "When I told them we were going to be on the show, a lot of people finally sat down and listened to us."
Besides providing the Rozatones' largest audience to date, the "Good Morning America" concert was also historic for another reason: It featured the unexpected birth of Crettien's now-beloved move, the Machine Gun Bass.
"We had basically no sleep, so when the time came to perform … it was surreal," Crettien said. "[The Machine Gun Bass] was just a moment of expression, total clarity and ease. When I was really grooving, it felt so good, so it was like, 'Yeah, America!'"
The 'Tones Ride Again
The Rozatones returned to the Castaways stage last Thursday, more than a month after the band's self-criticized performance, for a concert celebrating Roza's 22nd birthday. There was something different in the air this time, and it wasn't just the smell of freshly pressed waffles being emitted from behind the bar.
Anxious music lovers came in from the cold in droves around 11 p.m., and Conerty took stock of all the unfamiliar faces.
"I usually recognize at least three quarters of the audience," Conerty said. "This time, I didn't recognize half of them."
Regardless of how the Rozatones felt about their previous Castaways show, there's no doubt about it: They were on this time. Duncan's gopher face was out in full force, as was his rhythmic connection with Crettien. The brass section was tight, and Gold bounced around like crazy as he jammed on the keys.
As the Rozatones started to leave the stage after their hour-long set, the crowd turned ugly.
"One more song! One more song!"
Without much hesitation — there was a slight delay while the band waited for Conerty to come out of the bathroom — the Rozatones returned to the stage and launched directly into the fast-paced "Weapons of Control." The crowd went bananas.
After the first song, the encore was suddenly interrupted by a bum-rush to the stage. It was the Rozahos, and they came bearing a cake for their roommate. Roza stood silently on stage for the first time as the crowd serenaded her with a drunken, pitchy rendition of "Happy Birthday."
Standing under the bright lights, surrounded by her 'tones and her 'hos, a calm washed over Roza's face. She wasn't thinking about the mistakes that may have been made that night. She wasn't thinking about the future and whether the band will survive four of its members graduating in a few months.
All that mattered in that moment was that everyone was enjoying the music, and enjoying themselves — that's really what the Rozatones are all about.
"When you connect with people through music, I think that's one of the highest levels of communication," Crettien said. "It's just so universal; no matter what language you speak, no matter what your beliefs are, if you feel the groove then you're locked into that moment. It's really powerful."
The Rozatones will perform at 8 p.m. tomorrow at the General Clinton Pub in Oneonta. For more on the band, visit www.myspace.com/therozatones.