Thirty minutes before the first HiFashion Studios fashion show, "Strangers Into the Night" began, the lobby in front of Emerson Suites was swamped with nearly 400 eager students ready to view collections from designers and students alike. Despite being a Monday night, the line to enter Emerson Suites extended to the Phillips Hall staircases, made up of students dressed to nines, anticipating Ithaca College's fashion event of season.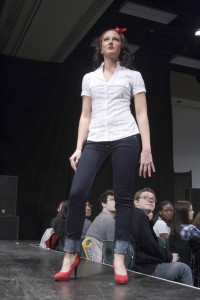 By 7 p.m., the show had begun dramatically with a thumping bass and techno beats, courtesy of DJ Kamal Naeem, a freshman at the college. As the lights brightened over the criss-crossing runway, a theatrical scene unfolded, culminating in a fashion extravaganza to start the show.
VIP spectators watched from front row seats adjacent to the runway, while the rows behind them were filled with excited attendees. The first collection, "Androgyny," featured effortlessly edgy and louche menswear, while the following collection included a '50s selection that favored bright solids paired with patterned prints, pump heels and scarf hair accessories.
Freshman runway model Amanda Henson said her favorite collection was the '50s themed one. She said modeling in the show was an exciting experience.
"It was awesome," she said. "There were music and lights — the best part was walking down the runway."
Sophomore Hayley Nickerson later showcased three original designs that were boldly innovative in their creativity, but paid homage to past classics with elements like strong shoulder structuring and daring backs fashioned from striking, richly colored fabrics.
After a 15-minute intermission, the second act of the fashion show began with a guitar and vocal performance by junior Oshan Gunawardana. Then, junior Bianca Lupi's three-piece collection opened the second half. Her designs were both structurally dexterous and airily graceful with soft florals and opulent fabrics.
Later collections included the "Editorial" look, which was heavily influenced by haute couture and was inherently chic with a bevy of accessories and a mix of both classic and cutting edge fashions. There was also the "Global" collection that combined urban and tribal fashion for an international fusion of bold prints.
Senior JingRu (Jane) Wang presented a breathtaking collection of ethereal and exquisite floral dresses that floated elegantly down the runway. She said seeing her dresses on the runway was an exhilarating experience.
"I was really nervous when I saw my designs coming down the runway, but the models prepared and practiced a lot, and it came out beautifully," she said.
After the finale, where all the models walked down the runway one last time, the applause was thunderous. Naeem, who had been laying down tracks throughout the entire show, said the show was an incredible success.
"I think they had a great turnout," he said. "I really liked all the collections. Playing music was so fun and working with all the designers and stylists was awesome."
For Pedro Maldonado, creative director of the fashion show and interim president of Hi-Fashion Studios, the night was both a triumph and a relief.
"I am beyond happy about it," he said. "It was so successful and I feel like everybody just loved it. It was perfect. Next year, we might go bigger. We want to keep everyone excited and make this ongoing. We want to make everybody look forward to these events."
---