While it may not have the hustle and bustle of a major metro area, Ithaca finds itself surrounded by small town charm and hidden gems like PhotoSynthesis Productions, a small video production company with big projects and a big message.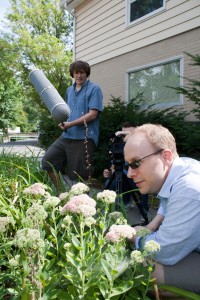 PSP hones the expertise of locals and energy of young students to create documentary films, DVDs and promotional videos that focus on social justice and education for all types of clients. Three full-time employees, two of which are Ithaca College alumni, and a group of editors and interns write, shoot, edit and produce their projects.
PSP's past works include 27 educational films for National Geographic, as well as a documentary called "Living Adoption: Gay Parents Speak," a film released earlier this year which focuses on the issues and process surrounding adoption for gay couples. Deborah Hoard, president of PSP, said the company tackles social justice concerns and strives to educate.
Now the company is working on a documentary that follows the Dalai Lama when he visited Ithaca in 2007 and explores the Namgyal monastery located on Aurora Street. PSP plans to air the documentary on PBS, submit it to film festivals worldwide and sell the DVD on its website to raise money for construction of the monastery's new complex.
In addition to the Dalai Lama documentary, PSP just finished a series of short films on mental health issues geared toward students at Cornell University, as well as a commercial for Center Ithaca.
David Kossack '04 graduated with a degree in cinema production and several films from his days at the Roy H. Park School of Communications under his belt. After graduation, he found odd jobs in the area and eventually discovered PSP through a friend. Now he works as an editor and cameraman for the production company. He said the company's emphasis on social justice is important because it gives a voice to those who have none.
"If something does not get attention in ways that other things do, it will fall away," Kossack said. "Our goal isn't just to create a training film but to give it a humanity, to show, demonstrate and connect people to the realities. There are human beings on the other side of the equation."
In addition to the film projects, Hoard said the ever-changing group of young employees and interns at the company make each day interesting.
"I have Ithaca College interns all the time," Hoard said. "Some of whom end up staying and working here and going on to jobs elsewhere, or staying around for 10 years and coming back. It really is an interesting ride. There's always a lot of new ideas, people, strengths and skills that change up the mix."
Garth Avery '04 also spent his first year after graduating with a television-radio degree looking for a job until he stumbled on the company. Avery now edits and serves as a visual effects artist for PSP and said he favors educational films to corporate projects.
"It's good to be doing positive work rather than the soul-sucking yadda-yadda that you might find in New York City," Avery said.
From the ability to gain a wide spectrum of experience in all aspects of the production process to the flexible hours and friendships within the company, Kossack said he enjoys coming to work every day and the benefits of working for a smaller production house.
"I feel like my work is valued in ways that I'm not sure it would be in a larger company," Kossack said.
Working at PSP has been a learning process for the staff members. Avery said his time at the company has given him the opportunity to work from the bottom up.
"I like that it's a small company," Avery said. "When I started working here I didn't know too much about video, so I've gotten to do entire projects from start to finish by myself. I've gotten to feel around for each piece of the business that I like."
No matter where their projects may take them, PSP employees enjoy their Ithaca location and the opportunities it brings them. Hoard said she finds enjoyment in learning something new from her fellow Ithaca residents.
"[Our mission] is to use film, video and media for social justice but in a great-looking and exciting way," she said. "A lot of our work is in someone's home or their life. It's more intimate."