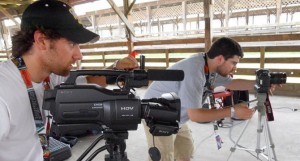 As a sports writer for local alternative-weekly Gambit, Alex de los Rios '07 got to follow the New Orleans Saints and the New Orleans Hornets to different stadiums and arenas. Today, he follows something completely different: contemporary brass bands at the heart of the Big Easy. Senior Writer Alexandra Palombo spoke with de los Rios about his new documentary on New Orleans' music scene, the bands he filmed and how music is the soul of the city.
Alex Palombo: What gave you the idea to make this documentary on brass bands?
Alejandro de los Rios: I moved to New Orleans right after I graduated in 2007, and I didn't know anything about the city at all. I kind of had this stereotypical vision of New Orleans — about balconies and drinking in the afternoon and stuff like that — but I had no real knowledge of the culture and kind of how ingrained everything, in terms of the art, in terms of the music, is in the culture down here.
AP: Who are some of the bands you remember going to see?
AD: One of the first bands I got to see was the Soul Rebels Brass Band, which is one of the bands featured in our documentary. They were actually the first band we got to interview. I was just struck by the artistry of it and just how good they were as musicians in general. … You come down here to see them play, and they're playing funk, they're playing blues, they're playing popular contemporary music, they're playing Michael Jackson, and they're playing just an incredible array of music.
AP: Do you have any favorite bands that you followed?
AD: I mean, honestly, it's gotten to the point where I can't define them as favorite bands but as favorite moments. … Like when we filmed Rebirth at the Howlin' Wolf not too long ago — the Saturday before Mardi Gras. That was the coolest thing. … There were about 1,400 people there, and they played for an hour and a half straight without stopping. They'll take two breaks between songs, but everything else is just straight the whole way through. … But if you really had to press me, I would have to say the Dirty Dozen because they started it all. I don't think you can go wrong if you said that because then you won't piss off any of the contemporary musicians.
AP: Hurricane Katrina hit the area hard, but from what you've seen, how far has New Orleans come in rebuilding in the past few years?
AD: When I first moved down here that was just two years after the storm, and St. Charles Street Car Line hadn't been activated yet. … You always see the cars full when they're on St. Charles. Every year Mardi Gras is bigger. There's always more people every year for Jazzfest; there's always more people every year for French Quarter Fest — which is both good and bad. It was nice when everything was really small and intimate, but at the same time it's incredible to see the tourist industry return. … I would say that one of the indelible marks on me in the brass band documentary, just from interacting with people down here, is how people have really taken on the recovery for themselves. … People have realized that the recovery is going to be from the people who live here and the people who want it to happen.
AP: What does the brass scene mean to New Orleans?
AD: It's the most defining thing about New Orleans — at least musically. New Orleans has a slew of different musical genres, and it's a musician's city. … But brass bands — it's the earliest musical form that you see that still exists here in New Orleans aside from maybe the blues. The blues doesn't carry that kind of inherent culture with it that brass band music does. … You have a brass band for pretty much every important occasion from life to death in this city. … You have a second line [a jazz band who follows a parade and dances] at a birthday. You have a second line on a club anniversary. You have a second line when someone dies. It's so ingrained in the way of life. … And you see that it's not just music. It's not just a genre. It's not just a culture — it's where all the creativity originates from in the city. … It's a great thing to be surrounded with this kind of music and how it spurs people on and how it fosters creative culture and a sense of community with people in a way you can't find in a lot of places.
AP: What were some of the obstacles you had making the documentary?
AD: In terms of obstacles, it's mostly just the money issue — which we're hopefully going to solve with [the band] Kickstarter — and just administrative and logistical stuff, like 'Where are we going to film these guys? How are we going to film these guys?" getting permission from venues, getting permission from the bands, setting up, coordinating schedules — our sound engineer is also a bartender, and he's got a 3-month-old baby, our sports photographer is shooting a triathlon right now, and I have a day job covering the civil court system down here. So the obstacles aren't just things that are impeding the process, it's just things that we have to get around to make sure our production stays on track and stays on schedule.
AP: Why do you think this documentary is important to make?
AD: It's actually pretty rare to find primary sources when it comes to this information. No one's really documented these bands in the extent that we have. We've interviewed almost every band member. … At the very least, we've tracked them all down for at least five minutes — asking where they're from, what school did they go to, how did they start playing music, why did they start choosing the particular instrument they played. … We have about 1,000 hours of footage that we have to condense to 90 minutes, and we want to donate that to universities, schools, cultural foundations and anyone who would be willing to hold it and curate it and provide it as an open resource for people if they want to do the research or listen to the music. … Things like that establish the community and provide something that anyone can look up and anyone can study is possibly the most important thing next to getting the actual documentary up.