Natasha Keller '04 can be found focused on the hum of her sewing machine in a studio above Petrune that houses her clothing and accessory line completely handcrafted and sewn to perfection.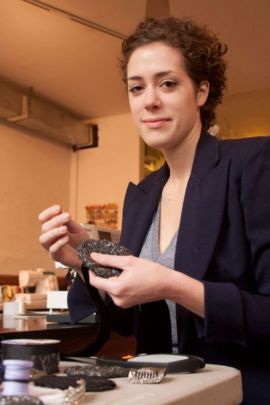 Though the sea of mismatched fabrics, mannequins and racks of clothing resembles an amateur version of Project Runway, Keller's studio is quickly obtaining professional status. It's the site of One Swell Gal, Keller's new brand of original housewares, accessory and clothing designs — which includes dresses, small purses, linens, napkins and cloth baskets, all ranging in price from $20 to $80.
Keller said she bases her fashion line off her passion for social advocacy and her curiosity about art.
"I'm interested in homemade art and supporting its production, fashion, recycling, art, society and the places where they all intersect," she said.
After graduating from Ithaca College, Keller began working at Planned Parenthood, where she gained knowledge about women's rights. Keller's interest in the community opened her eyes to staying connected to Ithaca. Her passion for social advocacy shows through her designs in her reconstruction of old and recycled materials into stylish new items as a way to benefit the community and the environment. Keller said she uses hundreds of scraps of fabrics and then experiments, adapting patterns to her own taste with original stitching.
Keller began working for Petrune in 2007 as a sales associate. After cultivating her love for designing, she pitched her line to Petrune owner Domenica Brockman.
Brockman said she knew Keller had worked in the community with other seamstresses and saw Keller's designing potential. Since employees at Petrune are not required to have a background in fashion or vintage clothing construction, Keller fit in perfectly.
Keller initially volunteered to repair any damaged pieces or update the un-sellable clothes in the store with new elements of fabric and design.
After finding a special 1950s pattern, Keller crafted her first piece, a vintage-inspired dress, which she said sold almost instantly out of the store window.
"I saw this niche for this vintage-modern chic and began making dresses in-house," Keller said.
She said the staff of Petrune noticed her success, and soon she was choosing fun fabrics inspired by classic '40s and '50s patterns from Dior, as well as the designs of John Galliano. Keller's tunics come in bright colors with screen prints of doves scaling up the sides. Her handbags are beaded with pearls and lined with ribbon. Keller said she wants to bring these timeless styles to Ithaca.
"The goal is to be appealing across the board," Keller said. "That's why we stick to classic styles that apply to all generations."
For more than a year, Keller has been showing her line at the Ithaca Farmers Market. Now she is making her mark on Petrune and is working on her new Web site, www.OneSwellGal.com. She said she plans to strengthen the brand by branching out to craft fairs and trade shows.
As a novice in the fashion and design field, Keller has positioned herself as a serious business owner hoping to introduce something different for the everyday woman. Keller said she is not the typical designer trendy hipsters might be used to She said she had no formal training before she started her line.
"Other than the skills I gained from my nana, I have learned everything from books, intuition, and trial and error," she said. "It's overwhelming to take on."
At the college, Keller had a very different focus. She studied music education and performance with the euphonium as her main instrument. David Unland, associate professor of music performance and Keller's studio professor, said Keller was talented and dedicated. He said he is not surprised by her transition to fields beyond music.
"Natasha was aware of more things and more than just a music degree," Unland said. "She had a strong social consciousness."
Keller said she took little from her musical background when she started designing, but is grateful for the creative energy the college gave her.
Senior Lucy Carey, an employee at Petrune, said employees of a vintage store must have a certain "style sense" and be aware of the evolution of style.
"You learn to know what you're wearing and the history of the garment and have to be able to generate clothing for the clients' needs," she said.
With so many vintage dresses hanging on Petrune's racks, there is plenty of room for Keller to create new designs for the store. Keller said her custom-made dresses cost about $80 because of the fabric she works with. Brockman said Keller transitioned to using high-end materials that enhance the quality of each piece sold.
"[Keller] has certainly had a big impact here," Brockman said. "She has a very classic sense and is a total perfectionist."
Brockman said this is great for Keller's line. Every garment has been perfectly and professionally executed, she said, with a few vintage-inspired touches that go beyond a funky pattern.
Keller has teamed up with Brockman to launch the Petrune 2009 holiday collection, which features one-of-a-kind party dresses and belts. Brockman said she trusts Keller with making clothes and accessories that any woman on The Commons would want to check out.
"Natasha is the ideal person to make clothes," Brockman said. "She knows what sells, what the customer wants and how to make something more than just that little black dress."