College has ended. The diploma has been achieved, and there is an exciting and uncertain life ahead. Welcome to the "real world."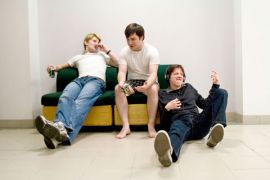 Ithaca College Players' latest production, "Boys' Life," examines the "what next?" aspect of moving out into the real world in a dramedy about growing up and discovering what it means to be a man.
Written by Howard Korder, "Boys' Life" is set in the 1980s. The story revolves around three "boys" who have just graduated from college and are stuck in limbo trying to find themselves and their purpose.
The hour and a half show will be performed at 8 p.m. tomorrow and Saturday in Clark Lounge. The round theater experience will feature a special collection of popular music from the 1980s between scene changes. With minimal props and simple costumes, the focus of "Boys' Life" will be on the acting and Korder's story.
The title comes from the Boy Scout magazine that had tips and information for young boys. This title is fitting because the three boys in the show are yearning for a guide to life, how to be a man and the responsibilities that come along with it.
Junior Andrea Bichan, director of the show, said "Boys' Life" will provide laughs but will ultimately deliver a sobering message — especially for college students navigating the job market in the current tumultuous economy.
"These characters have become adults by entering the working world, but still have the mentality of being in college and of being boys," she said. "We think that when we graduate from college we find out who we are, but we'll probably still be as lost as ever. This play is essentially the realization of our greatest fears."
The show's main character Jack, played by freshman Garrett Thoen, acts as the leader. Jack proves to be stuck in the mentality of a fraternity boy who thinks he is invincible.
The character Don, played by sophomore Bart Comegys, transforms the most throughout the play. Don starts out as a lost college graduate and turns his life around by becoming an engaged man with a newfound direction.
Sophomore Dan Jones plays the role of Phil, who turns to different vices such as alcohol and promiscuity to fill the void in his life. Jones said his character deals with a lot of insecurities.
"Phil is an interesting guy with a lot of existential angst and the belief that life is meaningless," Jones said. "[He] goes after a series of girls to bring him some kind of meaning or joy."
"Boys' Life" relies heavily on women to influence the male characters and serve as guides in the three lives. The wives and girlfriends of each character have already matured and are waiting for their partners to do the same.
Sophomore Addie Davis, who plays Maggie, Jack's wife, said the women prove to be more masculine than the men in the play. Davis said the female characters have matured and understand their responsibilities and roles in society, yet they have to hold the hands of the boys to help them also mature.
"The characters are desperately clinging to being young, and when you're young you get conflicting messages on what it means to be mature," she said. "It asks what it means to be mature, to be masculine and to be an adult."
Junior Lexie Braverman plays the role of Lisa, who is dating Don in the play, and said the three boys are stuck in "Peter Pan mode" and the women either throw responsibility at the men or offer to take it away. She said audience members will be able to relate to "Boys' Life" easily.
"Ithaca is the perfect atmosphere for this show because I haven't talked to anyone who isn't nervous about what they will do with their future," she said.
Assistant director Alison Ehrenreich said audiences will leave the play thinking about their own lives.
"Even older audiences will look back at that time in their own life and think of how they've changed," she said. "There are many characters that audiences will recognize from their own lives."
Jones said students will enjoy the show if not for the comic relief than for the its realistic value.
"It's almost a cautionary tale for college-aged students who don't know what they are going to do when they get out of here," he said.
"Boys' Life" will be performed at 8 p.m. tomorrow and Saturday in the Clark Lounge.