The sounds of bluegrass music filled the cold winter air of Ithaca this weekend as the third annual Winter Village Bluegrass Festival brought out Ithacans and out-of-towners alike for old-time melodies.
The festivities began Friday afternoon and rolled through the weekend to Sunday morning. Including performances as well as workshops, the festival was housed at La Tourelle Resort & Spa, located two miles up 96B from Ithaca College, and expanded to restaurants and other venues in Ithaca.
Rick Manning, the festival's producer and a bluegrass musician, said Winter Village grew from a love of bluegrass music that wasn't nourished by Ithaca's music scene.
"There's a lot of music that I hear at festivals that just doesn't get to Ithaca," Manning said. "Ithaca's not quite on the map for that kind of acoustic, bluegrass music. The musical culture here is very grassroots-y kind of groove [and] dance. It's more rhythm based."
When Manning first developed the idea, he thought it would be more central to downtown Ithaca, with musicians and festival goers staying in hotels near The Commons and music being played at bars, restaurants and different venues around Ithaca. However, a friendship with Scott Wiggins, managing director of La Tourelle, began a partnership in the festival's organization and created what Winter Village is today.
This year's festival highlighted national bluegrass bands from the Northeast. Bluegrass is a subgenre of country music, inspired by the folk music of the Appalachian region with influences from the traditional music of the U.K. It differs from mainstream country music in that it is traditionally played on acoustic stringed instruments. While bluegrass has roots in the South, the Northeast has become a burgeoning bluegrass music center in recent years. Some of the larger acts this year included The Gibson Brothers from the Adirondacks, Frank Solivan & Dirty Kitchen from Washington, D.C., and Della Mae from Boston, Mass. Local bands were also incorporated into the lineup.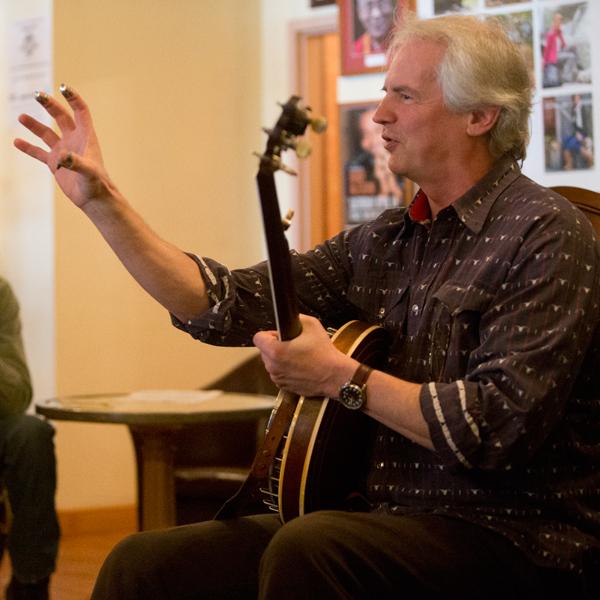 Peter McDonald, guitarist for local band Rebecca Colleen and the Chore Lads, said his friendship with Manning brought him into the festival. He said the festival concept is the perfect combination of music and timing.
"This was something timely and necessary for people of Ithaca to go to a venue in winter and enjoy music," McDonald said.
A big part of the bluegrass culture is collaboration between artist. Rebecca McDonald, Peter's daughter and lead singer of the band, said it was especially exciting to interact with the more established bands, musician to musician.
"A festival like this is great because you can interact with all of the other musicians, and you can meet all of your heroes," McDonald said. "Everyone will offer advice, and they're all very encouraging."
Bluegrass festivals are much more than performances, with many integrating workshops and other gatherings that allow for more personal interactions, Manning said. Festivals offer the opportunity to build a community of musicians and music-lovers, and Winter Village was no exception.
"Workshops are unique to bluegrass festivals; it's a big part of the culture," Manning said. "It's a lot of pickers; the people here respond to good solos. I think it helps having a lot of people in the audience who are good at it or not good at it and know how hard it is."
Sophomore Joe D'Esposito said he attended the workshops and the festival to experience a type of music that isn't prevalent at the Whalen Center for Music.
"I'm interested in the fiddle tradition of bluegrass music, but at school in the music program there's not too much of that going on, and in this town — at this festival — it is," D'Esposito said.
He attended a fiddle workshop Saturday morning and said with only 10 to 15 people in attendance and two professional musicians leading, it was a relaxed atmosphere to learn in.
"They would just kind of play a tune and ask if anyone had questions and then address those and show them what they could and answer them to the best of their ability," D'Esposito said. "It was very laid back. Just them telling how they got where they are and why they're making the musical decisions that they do."
As a mandolin player, senior Riley Goodemote said he listens to a great deal of bluegrass music but tends to play more traditional tunes. Because mandolin is common in bluegrass, he attended a mandolin workshop. Frank Solivan of the band Dirty Kitchen was one of the players leading it.
"I think [Solivan's] whole thing is making the traditional less traditional, playing traditional songs non-traditionally and playing non-traditional songs traditionally," Goodemote said. "So he talked a lot about how to change up music and how to fool around with it while still keeping its integrity."
Solivan's band was one of the acts that played during Saturday night's "Big Show." Before the concert at the Hangar Theatre, however, there were two smaller dinner shows held at The Piggery and Moosewood Restaurant.
For the third year in a row the festival's big concert sold out to offer standing room only. The Hangar's 300-plus auditorium was filled to the rafters with chairs brought in from the lobby to accommodate more audience members who arrived in hopes of getting a seat for the big show.
The show kicked off with some music played in the lobby while audience members trickled in before the 7:30 p.m. start. The Chris Stuart & Janet Beazley Trio, with Cornerstone Reunion, played the first set. In true bluegrass fashion, Stuart and Beazley joked around and took extended solos while the audience clapped, stomped, whistled and sang along.
They were followed by Frank Solivan & Dirty Kitchen, a band that lived up to Solivan's non-traditional mandolin workshop. A short intermission followed, during which the festival promoters had a raffle with prizes ranging from voice lessons to a stay at La Tourelle. Della Mae closed the show, and before their final number they brought out musicians from all of the other bands to join them.
With all of its success in bringing bluegrass to Ithaca and living-up to the true musical culture, Manning said he wished there were more young people in the audience. The average age of attendees was around 40, and being in a college town, Manning said he wanted to take advantage of the populations on the two hills.
"One little conundrum that I have is how to get younger people interested," Manning said. "I mean, what 20 year old would not like Della Mae?"
Goodemote saw the age gap differently, however. He said the musicians themselves were telling of bluegrass' move toward a younger generation.
"In a lot of circles, the culture of traditional bluegrass music is older, and you can see that here, but that's why it's so cool," Goodemote said. "Like Della Mae and two-thirds of the performers on stage were under 30. It's kind of a great thing to see that it's vital and spicy."