At first glance, The Kitschen Sink looks like grandma's attic. Collectible kitchenware covers the shelves. A flock of cross-eyed stuffed chickens sit on a couch. Vibrant aprons, some adorned with a cupcake-shaped pocket, hang from the wall. Smiling pink pigs, flying high in a blue sky, greet customers from a painted canvas. A giant white horse wearing a sombrero gallantly stands center stage, keeping a watchful eye.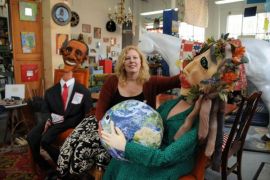 "The Kitschen Sink is an eclectic grab bag of everything unique and unusual," said Elizabeth Tilley, the store's owner.
The Kitschen Sink is more than just a store. It is a collaborative effort by local and regional artists to display their work in the store's space. Tilley organizes art unveilings every couple of months where community members attend a themed reception, complete with snacks and music to match.
On Halloween, The Kitschen Sink hosted a costume party to honor the Halloween-themed art created by local artists. For the presidential election, an in-store centerpiece included a life-sized Obama model sitting at a table playing cards with headlines such as, "Economy: No Free Ride for the Rich," written on it.
"I love to host openings and display new work," Tilley said. "I don't want the shop to feel static. I want there to be a new energy all the time."
To honor the upcoming Christmas season and her personal family heritage, Tilley named The Kitschen Sink's next reception the "Family Dinner." The reception will have a German theme that will include an accordion player, German cuisine and holiday ornaments and crafts. Tilley will be displaying quilts and paintings that she has made along with photographs, pastel paintings and pottery made by members of her extended family.
"I'm trying to recreate a German Christmas market," Tilley said.
The store was previously known as Spirit and Kitsch before Tilley bought it in August. Tilley has been a mixed-medium artist for most of her life, painting murals in homes, refurbishing furniture, sculpting and quilting.
Tilley said she decided to buy the store even though she had no prior retail art sales experience.
"It's a lot harder than it looks," Tilley said.
She said the current situation with the economy has not discouraged her from putting her heart and soul into the store.
"It's scary to open a new store in this economic climate, but I think people will need what I'm offering in this kind of time because they can't just go buy disposable crap," Tilley said. "The more depressing life gets, the more you need beautiful things."
Sophomore Charlotte Kramer, who visited the Kitschen Sink in October, said she liked the store and its atmosphere of "organized chaos."
"Everything is really affordable and one-of-a-kind, and I love the opportunity to support local artists," she said.
In keeping with tradition, The Kitschen Sink continues to work on consignment with the 20 artists who made much of the art, jewelry, clothes and other items for the store's previous owners. In addition to working with the original 20 artists, Tilley frequently adds pieces and trinkets from new artists to the store's collection.
Tilley said she is still surprised that original artists approach her almost daily, looking to sell items in the store.
"There are so many artists in Ithaca," Tilley said. "It's amazing."
Painter and Cornell University graduate Emily Benning is one of many artists whose work, colorful paintings of dogs, has recently been added to the store's collection.
"It's a really chill place, and I love the stuff," Benning said. "I'm really impressed with the quality of work there."
Tilley said her favorite item in the store is a shiny, polka-dotted footstool, affixed to rolling, industrial wheels, which squeaks if weight is put on it.
"It has elegance, functionality and playfulness," she said. "It's everything I think art should be in one piece."
Tilley said the biggest challenge for her has been learning how to sell art, while resisting the temptation to buy.
"What I'm trying to do here is have the unusual, beautiful thing that's not going to break your bank, but make your life beautiful and happy every day," she said.
The Kitschen Sink is open from 11 a.m. to 6 p.m. Monday through Saturday and is located at 210 Elmira Road.