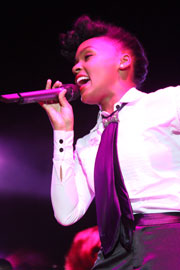 Grammy-nominated R&B artist Janelle Monáe headlined with special guest Fun. on Sunday in Cornell University's Barton Hall, transforming the gloomy, drizzly Ithaca night into a lively evening with a blend of genres and upbeat performances.
Timothy Bloom, a young R&B artist, opened the show with a wide vocal range in his sensual, soulful melodies. Initially, the crowd seemed calm and disinterested, as evidenced by its stillness, but when Bloom belted out "Til the End of Time," an emotional, slow tempo duet with talented female singer V. Bozeman, their impressive harmonization left showgoers applauding in support. The duo's powerful, passionate chemistry and romantic lyrics, along with imaginative melodies and strong chord progressions, made the performance truly engaging.
Indie pop band Fun., the show's second act, emerged on stage at the cue of a foghorn, immediately grabbing the audience's attention. Lead vocalist Nate Ruess set a feel-good tone by constantly jumping around and singing lighthearted, catchy tunes, such as "All the Pretty Girls" and "We Are Young." Ruess's smooth vocals were showcased in the high-energy song "Barlights," as the lyrics "I Feel Alive" echoed through the hall. Then, diminishing instrumentals highlighted his soaring, tenor voice. Each song maintained an upbeat mood with harmonious choruses and poetic lyrics that focused on the struggles of maturation.
While the crowd members danced to the music, they were hesitant when Ruess attempted to get everyone to clap and sing along several times. The audience only cooperated halfheartedly and the energy died down moments later. As the band constantly danced to the beat, they projected a high energy level that the audience failed to live up to. Fun.'s performance was enigmatic and high-spirited, but became tiresome and overwhelming as each song seemed to blend together by the end. The audience was anxious to see the headliner after enduring two opening acts.
When it came time for the final act to take the stage, lights dimmed and thematic string music faded in, stimulating colorful visuals on the screen. A spotlight highlighted three hooded figures on central stage, who then stepped aside to reveal Monáe sporting her iconic black and white feminine suit and gumbo hairstyle.
Opening with the energetic number "Dance or Die," her performance was highly stylized and expressive, featuring elaborate footwork that emulated Michael Jackson with an array of dizzying twirls. She masterfully belted out original R&B numbers like "Faster" and "Cold War," in addition to her own interpretation of Prince's "Take Me with You" and a chilling cover of Jackson 5's "I Want You Back." Monáe's overall performance illustrated her inventive talent, style and invigorating personality, which makes this particular performance a spectacle, not a simple concert.
After a four-song encore, Monáe's set came to an explosive conclusion with her anthem, "Come Alive." Balloons floated overhead while almost everyone on stage and in the crowd — including the ensemble — lowered to the ground as the music slowed down and then immediately jumped up as the singer instructed them to "come alive."
Even though opening acts Timothy Bloom and Fun. showcased undeniable talent, Janelle Monáe spread her infectious energy like wildfire and made the dull night a high-energy success.