While preparing a Hazelnut Seduction, barista Leslie Bode fills a blender partially with ice and hazelnut flavoring. After grinding the coffee beans and evening the amount by tamping them, she checks the hopper for old espresso. Bode makes a shot by creating a fuse for seven seconds before letting it drop into a small mug.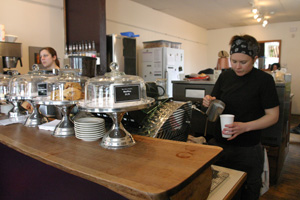 Mimi Wysong, manager and barista at the Cayuga Street Gimme! Coffee, said the store's personal investment in the espresso is what sets it apart from mainstream cafés.
"We are promoting the whole idea of coffee as a fine art," Wysong said. "It's not just like making a pot of Folgers."
Gimme! Coffee is part of the artisan coffee movement, a growing trend that is sweeping small coffee shops across the country. The movement promotes the idea that local coffee shops can still serve premium, perfect coffee.
Gimme! Coffee opened its first store on Cayuga Street in 2000 and its second on West State Street in 2001. That same year, the shop began to roast its own beans. Besides the two locations in Ithaca, Gimme! Coffee has also set up shop in Trumansburg, at Cornell University, the Ithaca Farmer's Market and in Brooklyn, N.Y.
The shop belongs to the Specialty Coffee Association of America (SCAA), an organization that sets the coffee industry's standards for growing, roasting and brewing. The SCAA has members from all aspects of the coffee production business, from exporters to coffee retailers. The shop also relies on "The Barista Manual 1.0" for all its coffee-making concerns. Gimme! Coffee uses both of these sources in staying up to date on current coffee trends in order to perfect its brews.
Specialty coffees are created from the finest beans grown in the most favorable climates, and they have distinct flavors derived from the soils they are grown in. The term "specialty coffee" was first coined by Erna Knutsen in 1974 to describe beans with excellent flavor. Knutsen, a coffee buyer for B.C. Ireland in San Francisco, wrote this phrase in the Tea & Coffee Trade Journal. Coffee shops known for selling specialty coffee are part of the artisan coffee movement, as they consider the beans to be the most crucial ingredient in creating a great cup of coffee.
To the baristas at Gimme! Coffee, creating beverages is much more than a mere job: It's a highly valued art form. From adding the right amount of flavoring to regulating the coffee-to-water ratio, the baristas take pride in their detailed labor. Even when performing seemingly simple tasks, such as creating the rosetta that tops each cup of coffee, baristas like Wysong search for perfection and beauty.
"We're hands on … [we're] more nitpicky and give our coffee more attention," Wysong said.
Gimme! Coffee has established itself as a hot spot for Ithaca residents. Local massage therapist Grace Santana has been drinking Gimme! Coffee and meeting with her friends at the café every day for the past two years.
"The coffee and culture are better here [than at Starbucks]," Santana said.
The decision to branch outside of the Ithaca area and move to a more prominent location helped Gimme! Coffee attract national attention. Since branching out, the shop has been featured in several major publications. Food & Wine Magazine named it one of the Top 10 U.S. Coffee Bars.
Pleased with the shop's success, Wysong acknowledges it is the personal touch of the employees that adds to the shop's charm and appeal. She said she believes baristas have absolute power over the drinks they make.
"Everything is under the barista's control," Wysong said. "Except the weather."
The coffee cups handed to customers don't come with lids or fancy straws. For Wysong and other baristas at specialty coffee shops, it's not about gimmicks or logos, but about achieving upholding standards and creating the best cup of coffee possible.
"Specialty coffee shops are creative in their approach," Wysong said. "There are always new methods to make a much better shot. That's why we call ourselves specialty coffee people."
Sarah Nickerson, a barista at Gimme! Coffee, said she feels connected to the specialty coffee movement and the quality of drinks it promotes. She holds herself up to the same standards as all specialty coffee shops.
"Gimme! maintains consistency," Nickerson said. "We're espresso driven, quality obsessed. … Overall, we're more involved in everything we put in our drinks. We're made up of people in the community, not just a franchise."