As senior Aubrey Manning buzzes away junior Corey Jeffers' hair, the other members of Brothers 4 Brothers crowd around discussing President Obama and the latest episode of "For the Love of Ray J."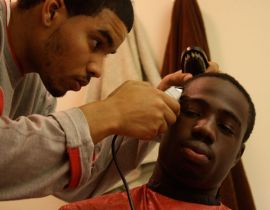 Manning plays a crucial role before the meetings that begin at 6:30 p.m. every Friday in the African-Latino Society Room of West Tower. When Brothers 4 Brothers, a group for men on campus, comes together every week, members know they can be themselves in a relaxed setting.
Besides relaxing and having their hair cut by Manning, the organization of more than 20 males from different ethnic groups discusses community issues and ways to be involved on campus.
"We look to empower each other and empower the rest of the community," Jeffers said.
Jeffers, the community chair of Brothers 4 Brothers, said having someone cut hair at the meetings has become a tradition, starting long before he joined the group in 2007. He said the barbershop-feel helps create a safe environment for members to speak freely.
"It's not just a meeting," he said. "The barbershop-feel creates a communal atmosphere for members to relax on a Friday evening after a long week of classes."
Manning, who joined the group his freshman year, said he enjoyed having his hair cut by the group's former barber, Justin Huertas '08. When Huertas graduated, Manning said the group asked him to take over.
"I thought it was a great way to help out our fellow members so they didn't have to go downtown for a haircut," he said. "It is definitely something cool that I thought we should keep doing."
Junior Brian Grey, co-president of Brother 4 Brothers, said the barbershop tradition was inspired by movies, such as "Barbershop," that showed characters having important discussions on the styling floor.
"People will come probably two hours before the meeting actually starts just to get in line to get their hair cut," he said. "It's good to have the brothers there before the meeting starts so their minds are already going for the discussions."
Though some of the group's discussions are minority-focused, Jeffers said the group is open to all males.
"There is a common misconception that this is a black organization, but it's not," he said. "The discussions we have [at the meetings] are open to any male that is willing to listen and come in."
During the discussions, Manning said he cuts hair for five to 14 people each week, though he does not have a license.
Pesco's Barber Shop on Elmira Road charges $15 per cut, a typical price in Ithaca. By going to Manning at the Brothers 4 Brothers meetings, students can save money because legally Manning cannot charge for his services.
According to the Department of State Division of Licensing Services, barbers cannot charge for haircuts unless they have passed a master barber license exam. A barber can take the exam after working as a New York state-registered barber's apprentice for two years or after completing a barber course in a New York state approved school.
Ed Pesco, Pesco's Barber Shop co-owner, said he doesn't see people who cut hair without a license as a threat to his business.
"They can charge whatever they want, but they also don't do as good of a job as someone who is licensed," Pesco said.
Jeffers said that neither Manning nor Huertas is a licensed barber, but members don't find it to be a problem. It's a tradition.
"I've always had either family members or friends cut my hair since I was little," he said. "The professional barbershops just don't understand what they need to do to cut hair properly anyway."
Sophomore Shuaibu Ali has been getting his hair cut by Manning for the last two years. Ali said since he met Manning, he can get a cut without having to schedule an appointment.
"He understands my kind of hair, quite frankly, and he knows how to give good shape-ups," he said. "Aubrey's just a real class act."
Manning, who is an exercise science major, said he is looking into waxing eye brows to capitalize on the female market. He said he understands why women like to look their best. But in order to make more money, Manning would need a license.
He said he never really thought about getting his license before. Cutting hair is just something that comes naturally to him.
"I'm trying to get into medical school, but you never know what could happen after that," he said.