Everyone at Moe's knows Homer. Gunther at Central Perk recognized the "Friends" gang. The people in "Cheers" hung out at Champs (or whatever that bar was called). The point is, life isn't complete until you're a regular somewhere.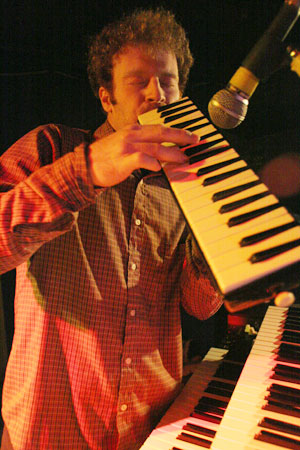 Luckily for Ithaca College students, Ithaca boasts a number of locations that hold weekly theme nights. So whether you're looking to play keyboard on a Bob Marley song, belt out "The Final Countdown" in front of a bunch of strangers-soon-to-be-friends or just watch, pick a place and make yourself at home.
Castaways
Castaways' Reggae Tuesdays have gained a reputation as an open jam session for the genre's local enthusiasts. The nights begin when a four-piece house band, The Itown Reggae All-Stars, takes the stage. After that, a slew of performers control the microphone, ranging from college students to dreadlocked Rastafarians.
Elaina Rogers, a bartender at Castaways, said the event draws an eclectic crowd.
"Castaways has always drawn a mixture of locals and college students," she said. "That's what a lot of people like about it."
Reggae Tuesdays thrive during the holiday season and summer months, bringing in touring groups and members of popular bands such as John Brown's Body and Thousands of One.
The event — which began in 2000 — has acted as a social networking tool for musicians such as David "Doobie" Zuben, keyboardist for The Itown Reggae All-Stars.
"It's actually pretty great," he said. "I've definitely met many of the local area musicians. It really gives people a chance to experiment with their own styles and their own playing."
Rogers said she sees it as a unique event for the Ithaca area.
"I don't think anybody else has a reggae night," she said.
Reggae Tuesdays are held at 9 p.m. Tuesday at Castaways, 413-415 Taughannock Blvd. Admission varies.
The Haunt
Every Wednesday at The Haunt, someone is up high on stage, lit from behind by colorful lights and belting out "Just a Girl" or "Sweet Child of Mine," — often both on the same night. That's because Wednesday night is karaoke night at The Haunt.
Tony Kent, talent buyer of The Haunt, said the club's karaoke night sets itself apart from karaoke at other locations because of The Haunt's high stage and sound system designed for full bands.
"You go to [karaoke at a bar], and you can't hear anything," Kent said. "It's a small [sound system] and people are talking. You can't tell what people are singing at all."
The night attracts students from Ithaca College and Cornell University, along with locals. Ithaca College senior Stephanie Masline said she has been going to karaoke at The Haunt since mid-July and has only missed it once while in town.
"For a lot of us who love music but didn't end up being music or theater majors, it's such a great outlet because you can go and, you know, you get the aspect of it that you love while not being too intense and while everybody's being really supportive," she said.
Kent said he sees friendships form between people who attend karaoke weekly — especially between some Ithaca residents and college students. Masline said she enjoys meeting people she would not normally come into contact with.
"There are a bunch [of regulars] who are there every week, and they do the same song and you know their whole song and you know their whole routine," Masline said. "It's a really good time, and you all get to know each other."
Karaoke Night is held at 9 p.m. Wednesday at The Haunt, 702 Willow Ave. Admission is free.
The Nines
Every Sunday, aspiring musicians congregate at the brick-laden Nines in Collegetown, bringing with them acoustic guitars, mandolins, basses and banjos. They are attending the venue's weekly acoustic open-mic night, a laid-back setting where the night's lineup is determined by a simple sign-up sheet.
The event began in 2003. Jerry Tanner, who hosts the show and works in the
restaurant's kitchen, said up to 15 acts perform per night.
"I try to sell it off as 'You can come, and you get fifteen acts for no cover charge,'" Tanner said.
Performers range from rank amateurs to seasoned professionals. Last Sunday, Tanner opened with a mandolin version of Charlie Daniels Band's "The Devil Went Down to Georgia" and was later followed by a less-rehearsed teenage girl strumming Jane's Addiction's "Jane Says."
Many musicians use the show as a way to record their music without paying for costly studio time. Tanner records acts on his laptop and posts some on freevillemusic.com.
"Anything that's original and free domain can actually get published," he said.
Harlen Vamzile, an Ithaca resident who attended for the first time Sunday, said he's a fan of classic rock but appreciates the folky nature of the event.
"It's meaningful," he said. "They're all trying to sing about their own message. I like the storytellers."
Open-mic night is held at 9 p.m. Sunday at The Nines, 311 College Ave. Admission is free.