Everybody likes a good T-shirt. A blank white tee is a canvas for art, expression and even humor. Add some color, design and a catchy phrase or two, and a shirt can become a marketable masterpiece.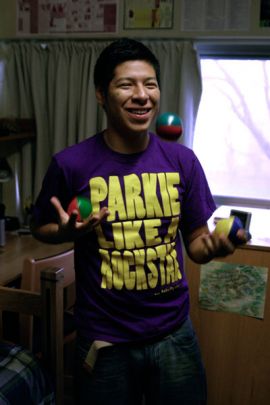 Ithaca College may already have a campus bookstore full of nicely designed T-shirts, but a new designer on campus has impressed many students with his fresh, stylish and original apparel.
Freshman Luiggi Ramos, a cinema and photography major, has been designing T-shirts since his junior year of high school at Newburg Free Academy in Newburg, N.Y. The budding designer was born in Peru and moved to America when he was 3 years old.
When he began designing shirts, Ramos' key inspirations were skateboarders with artistic T-shirts.
"Originally, I was really intrigued by the fact that skateboarders like graphic tees, so I decided to design catchy shirts or really artsy stuff," he said.
Ramos' most popular design, a dark purple shirt with "Parkie like a Rockstar" printed on the front in bold, yellow lettering, has received many accolades from Roy H. Park School of Communications students who want to show their Parkie pride. Ramos was able to take an interesting spin on a well-known song in his design.
"I was just listening to 'Party like a Rockstar' [by ShopBoyz], and I was like, Party — Parkie — I can do that," he said.
Ramos said he was confident students at the Park School would be intrigued by this colorful and trendy design.
"I knew they would sell," he said. "I didn't want it to just be a white shirt with navy blue lettering — that's too simple — I wanted something that would fly."
Ramos posted the Parkie design along with his other T-shirts on Facebook, and almost immediately, picture comments and wall posts praising his creativity boosted potential sales.
Freshman Martha Pace, who owns Ramos' "Star Power" shirt, a white shirt lined with brown and white stars with the outline of a palm tree in the center, said his individualized designs are what make his shirts so appealing.
"I just like that I'm wearing something that is from Ithaca," she said. "Obviously you can't get it anywhere else because he's the only one making them."
Ramos said much of his motivation for making and selling shirts came from a friend of his who developed a small T-shirt business.
"I had a friend … who started designing shirts, and he printed out a few and sold them around, and I thought, 'hey, why can't I do that?'" Ramos said.
In October of his senior year of high school, Ramos decided to start his own business and coined the name "Harbor Outfitters"— inspired by the harbor of the Hudson Valley near his home — as the company name. He began selling shirts and used Adobe Illustrator and InDesign on his school computers to design his early shirt models.
"We had labs [in my high school] just like here in Park where you could do video cutting, or images — visual communication stuff," he said. "I actually learned most of it by myself."
Ramos has designed about 15 shirts so far and said he is on the lookout for people who want to design and assist him in his marketing and business efforts.
"I'd really like to be in connection with business students so they can tell me exactly how I should really launch this," he said. "Maybe talk to some PR kids down at the Park School about truly advertising my work."
Ramos' tees have also caught the attention of some faculty and staff at the college.
After being selected as one of the 20 Park School students going on the yearly trip to France, Janice Levy, associate professor of cinema, photography and media arts, approached him with an idea.
"When I found out that he was going on the France trip, I thought, wouldn't it be a great idea to have him design a T-shirt for the Park Students going to France?" Levy said.
Levy brought the idea to Dianne Lynch who agreed to subsidize the endeavor.
"People [living] in France will be wearing Luiggi Ramos' T-shirts that say, "Parkies in France," Levy said.
To buy a Harbor Outfitters T-shirt, e-mail Luiggi Ramos at lramos2@ithaca.edu.