Sometime in the late 1960s or early '70s — she can't remember which — Suzanne Schwartz, then between 5 and 7 years old, met with about 45 other Koreans in the basement of Cornell University's Anabel Taylor Hall. It was the first time she had been in a room where everyone else looked like her.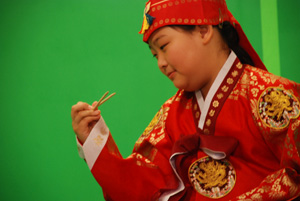 Schwartz grew up as the adopted child of a white Ithaca couple. Almost all of her friends were white. When she attended the Korean community meeting at Cornell, she had not yet learned how to use chopsticks.
"We would go to an Asian restaurant and [my friends] would all look at me and say, So what's that? and, Which one should I order?" Schwartz said. "Like I'd know."
Since then, Schwartz said Asian culture has become much more visible in Ithaca. One example of this is Celebrasian, a two-night event celebrating Ithaca's Asian community tomorrow and Saturday.
Celebrasian will feature Asian music, dance, food and art, and two monologues about life in America as a person of Asian heritage. The event is sponsored by Ithaca College's Department of Cinema, Photography and Media Arts and Cornell's Asian American Studies Program.
The task of organizing the event belongs to Changhee Chun, assistant professor of cinema, photography and media arts, and his Cinema Production Practicum class.
Chun said his inspiration for Celebrasian came while doing research for his documentary "Spilled (Soy) Milk," which premiered in May 2006. He said he interviewed more than 50 Asian Americans from the Ithaca area for the film.
"There are many talented Asian American people in this community and they didn't really have the opportunity to perform," Chun said. "There was no single live event where people can see the various cultural performances and things. I thought, That can be a great event if you can organize it."
As the teacher's assistant for Cinema Production Practicum and the production supervisor for Celebrasian, senior Regina Hermosillo is organizing the performance aspect of it with 15 other students in the class. She said working on a live production is a challenge for film students.
"None of us are theater majors, so this will be our first time … running a live event," she said. "It'll be very exciting."
Less unfamiliar, but perhaps more challenging for Chun's practicum students, is their contribution to Celebrasian. They took "A Slant on American Life from One of the Bunch," a monologue written by Schwartz in 1997, and adapted it into a film titled "Red, Yellow and Blue."
The film will incorporate footage from the live performances of the monologue at the Celebrasian events. Senior Bob Salatich, executive producer of the film, said he hopes the film will capture a story that Americans haven't heard before.
"I hope we give people … insight into another American's situation, a different experience," he said. "But at the same time, I think everyone can relate to being in a group of people and feeling like you're being left out."
Schwartz's monologue includes four major events in the main character, Marty's, life. One of these events is the meeting at Cornell. Salatich said this part of the film is particularly powerful.
"[It's] the first time she's experienced people who look like her, which is almost just as shocking because not only do they look like her, but the sad part is that inside they're different," he said.
The film itself won't premiere until next week, but a trailer will be shown at both Celebrasian performances. The performances will also be preceded by a "Night Market," where Asian culture groups from the colleges and the city of Ithaca will sell shirts and food.
Celebrasian is the result of a film class, and the film is a major part of the event, but Celebrasian itself encompasses much more. Chun said it is an opportunity for Ithaca's Asian Americans to share their heritage with the community.
"There are a lot of rich Asian cultures that don't really have a good opportunity to be introduced in our community," he said. "So I hope that this is the kind of event where viewers can see those diverse cultures and cultural activities in a way where we can educate the people."
Celebrasian will be held at 7 p.m. tomorrow in the Clark Theatre in Dillingham Center. A second performance will be held at 7 p.m. Saturday in the Statler Auditorium at Cornell University. Tickets to both performances are $5 and can be ordered by calling 274–3224.