The Cece's don't need a stage or an audience to enjoy playing their music. Just shout out a genre — say, hip-hop — and without speaking, Lydia and Maddy Froncek will play a folk rendition of Kandi's "Don't Think I'm Not."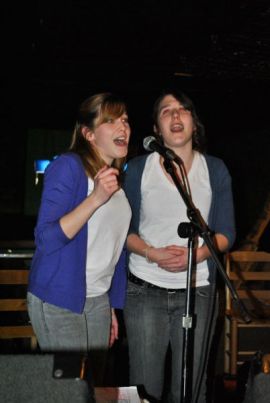 Armed with an array of stringed instruments — including the bass, banjo, ukulele and guitar — and an ironic sense of humor, the 18-year-old twins play a combination of popular music and original compositions at local venues such as The Nines in Collegetown and The Shop on East Seneca Street.
Though they're only seniors at Ithaca High School, the Fronceks are already veterans in the local music scene. For the past six years, the twins have performed in the six-piece group Sugar in the Raw, a regular at the past four Ithaca Festivals. After some members transferred schools, the group disbanded last fall.
"Maddy and I decided just to do our own thing since we really enjoy making music, and we didn't want to stop just because two-thirds of our band was gone," Lydia said.
Their sister and "stage mom" manager Sylvie Froncek said the idea for a duo came about when the twins purchased ukuleles about six months ago.
"They both got good at playing it and good at singing and just hanging out in the house [making] songs," she said. "It's amazing how they can just pick up any instrument and play it by the end of the week."
When deciding what to play, Maddy tells Lydia to start whatever song she wants on the ukulele. After a few chords, Maddy picks up on the banjo, without either one of them saying a word. When they spontaneously giggle or transition from song to song on stage, anyone can tell they just had an entire secret conversation.
"I can just give Maddy a facial expression, and she knows what that means, which no one else would really get," Lydia said.
Though the "twin thing" makes it easier to write and perform as a duo, the Fronceks still enjoy collaborating with other local talent.
"People say that they like the stuff that just Maddy and I do, but I think I have more fun doing the whole group thing," Lydia said.
No Eggs No Problem, a five-piece self-proclaimed acoustic rap band comprised of the Froncek's friends — including Ithaca College freshmen Tommy McAree and Chris Cote — joined The Cece's on stage at The Nines on Feb. 5. Originally selected as the opening band, No Eggs No Problem decided to practice with The Cece's before the show. After working together for the week, the two acts decided to play as one group for the performance.
"It was a very energized show," McAree said. "The people that came were really into the music, which always makes it easier and less uncomfortable to perform."
George Larsen, who books music acts for The Nines, said The Cece's impressed an older crowd, as well.
"They're a young band, and they have a fairly young following," he said. "So we did not make a lot of money on The Cece's [at the bar]. But it was nice to have fresh, cool new music. It was a good night."
Freshman Mathea Millman, who attended high school with the Fronceks, knows their sound well.
"It's cool that they have a unique sound and they're not all over the place," she said. "Their music has a real consistency, and they're getting support from the whole Ithaca community — not just the high school."
Becoming a household name is a goal for The Cece's, who decided to start performing as a duo while watching the VH1 special One-Hit Wonders of the '80s countdown last Christmas morning.
"We decided that we wanted to be on a one-hit wonder countdown, so we might as well start a band and try to make it big," Maddy said. "But if it wasn't fun we wouldn't do it."
The audience loves when they play acoustic covers of popular hip-hop songs. Lydia said it takes the audience some time to realize they recognize the song, given the new vibe the ukulele and banjo create.
They call their sound "upstate/down home," which includes folk and country roots, with a combination of hip-hop medleys to keep them sounding contemporary. This style matches the girls' laid-back personalities and sets up the perfect atmosphere for a small-town venue.
"We just want to make it as unique as possible and also to make it the kind of music we enjoy," Lydia said. "Mixing a lot of different genres helps make it a unique sound."
Though the down-home sound is undeniably catchy — as evident in the growing local following — the girls treat their talent as a normal part of life. They are not pretending to be more than what they are.
Millman said the twins are the same people on stage as they are off.
"There's no huge ego," she said. "You feel very comfortable when they're performing."
Maddy and Lydia plan to attend separate colleges in the fall, leaving their celebrity status at home. Their 18 years together have given them a chance to make their "twin thing" public, but now they're ready to strike out on their own.
"I'm pretty confident that they'll still be able to do awesome things independently," McAree said.
For the time being, the pair is sticking together, giving fans a chance to enjoy what they have to offer. Millman said The Cece's have earned their own spot in the eclectic Ithaca music scene.
"People are naturally drawn to them, whether it's their personalities or their performance skills," she said.
Larsen said The Cece's are on their way to becoming a favored local band.
"I'll book anyone once," he said. "But I'll book someone twice if there is a reason. And the reason is they brought a nice crowd."