A photograph of a colored eye hangs across the room from a sculpture of a bronze skull. Rows of stark white heads on spikes stand next to a concrete arm climbing through wire. These and other works of art currently at the Handwerker Gallery give a glimpse of college life through an artist's eyes.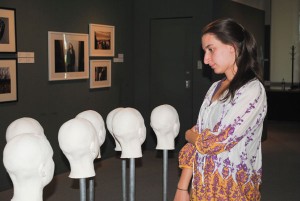 Showing the range of graduating students' artistic talents, the 2010 Senior Student Art Show will be at the Handwerker Gallery through Sunday. The exhibit includes work from students in the art and the cinema, photography and media arts departments.
Seniors were allowed to submit four pieces to be considered for the show. Professors in the art department then reviewed the submissions and chose which pieces were going to be featured.
Senior Kristina O'Connor was chosen to curate the exhibit and found, as part of her job, the underlying themes in the pieces. She said there was an intense emphasis in this year's work on the artists' personal reflection.
"One [theme] is about identity and the human desire to relate to the world around them," she said. "There were a lot of autobiographical pieces, but there were also pieces that explore the human form through the physicalness of the body. There was this reaching out for identity and self in the piece."
One of the pieces in particular that explores personal image is "36 Heads," a sculpture created by senior art major Alyia Bettman. The piece shows 36 casts of the artist's head placed on top of metal poles. Bettman said the piece is meant to be a portrait of herself, an interesting image of how she sees herself.
"The piece is very bold," she said. "It is just [focusing on] the boldness and the clean lines. It talks about the way that I would like to carry myself, my head."
Sophomore Liam Curley, a writing major, visited the gallery Monday. He said he was struck by the fact that students created these pieces.
"These are my peers, and they're making art like this," he said. "It's impressive just to see what my generation can produce and how they choose to express themselves."
Of all the pieces, Curley said he was most interested in a series of photographs by Nils Hoover called "States of Space." The pictures show realistic images of people walking through the streets, unfocused as though they are lost in their own world of thought. Curley said works like these are what stood out to him in the exhibit.
"It's interesting to think that there is art in that," he said. "That is the hardest thing — to look at a couch or a basement or trucks parked against a wall and see art there."