A new trend in adult toys is creating a buzz among Ithaca's naughtiest residents looking to be nice to the environment this holiday season.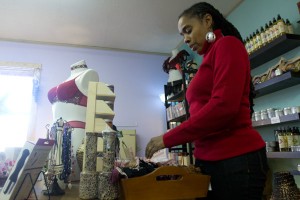 Sustainable Passion, a store established for women that is nestled on Taughannock Boulevard, offers new designs for sustainable, safe sex toys.
Christine Barksdale, owner of the store, began her business as a series of "Passion Parties," gatherings where women would come together to learn about and purchase new sex products.
"I had decided [to start the parties] frankly after seeing an Oprah show," Barksdale said.
Barksdale found few sex toy distributors offer a full line of sustainable products, so she decided to start her own. The party bookings with her new toys became so frequent that she opened the store to support the demand. After two years, the store expanded its products and jumped on a national trend of safe, eco-friendly products from both trade shows and local merchants.
Aaron Verity, one of the merchants Barksdale works with, is the owner of PyreXions, an exotic art store in Enfield, and has been a glassblower since 1998. Verity has worked with Barksdale since her store opened to create functional glass erotic art to sell to customers. His art is designed to be both aesthetically and physically pleasing.
"I have production designs that I designed and sold for years, but Christine went beyond the norm and actually asked me to design things for her," Verity said. "She'll just give me a drawing and dimensions, and I go from there."
Verity's products are nationally recognized. One of his customers is Good Vibrations, a physician-run franchise based in San Francisco that recently ordered more than one hundred pieces from him.
Barksdale said locality is often key in finding quality products, and she strives to sell American and European-made products. Because sex toys from China are considered a "novelty item," American companies are not liable for the chemicals that might be in them. In recent years, phthalates, chemicals found in many plastics, have caused heath concerns by leaching out of the plastic and into the body.
"There really are a lot of toxic toys," Barksdale said. "And I stay away from all of them."
Because sustainability and personal health often go hand-in-hand, Sustainable Passion offers several different kinds of "green" products. The most common, fully sustainable toys are made of silicone, wood, glass or stainless steel, but phthalate-free plastics are also safer than traditional plastics.
"Those tend to cost less," she said. "I try to have a price range so everyone can have body-safe toys."
Verity said the new sustainable toys are also more durable. Most products that come out of larger, production-based companies are not as well-made and therefore do not last as long. Manufacturers have pushed for a sex toy recycling program, especially to prevent the electronic components from being discarded. But for the most part, the toys remain in landfills. Sustainable toys, however, generally have a longer life because the materials are more resilient.
"Glass will last," Verity said. "Glass will outlive you, especially if properly taken care of."
Ellen Barnard, a sex counselor and owner of A Woman's Touch, a sex boutique in Madison, Wis., said the overarching lack of sustainability in sex toys reflects how unsustainable society is today.
"It really is going to be each person in each shop and each consumer to decide what you consider is sustainable," Barnard said.
Barnard said she defines these sustainable products as items made from renewable resources with little manufacturing and shipping. To apply this definition of sustainability to the realm of sex toys, an example of an ideal sustainable toy would be locally manufactured using wood and beeswax from nearby locations.
In addition to the environmentally conscious focus of the store, Sustainable Passion was also established to give women a positive environment to talk about sex.
"I did start this store so that women would have a safe space to come explore the world of sex toys," Barksdale said. "Most sex toys are for women, but they have the half-naked woman on the packaging because they're being marketed for men."
The sex toy parties, which she still hosts, create an accepting environment for women.
"Sex is funny, let's face it," Barksdale said. "So we should be able to laugh and be comfortable around it. The biggest thing is that people laugh."