Sophomore Carami Hilaire, a mezzo soprano, sings with her eyes closed. As she practices Sunday in the Whalen Center for Music, her arms move to the music, her voice resonates strongly, infused with a smooth vibrato. When the music is slow, her dynamics are subtle. When it's fast, she snaps her fingers and sings with a smile.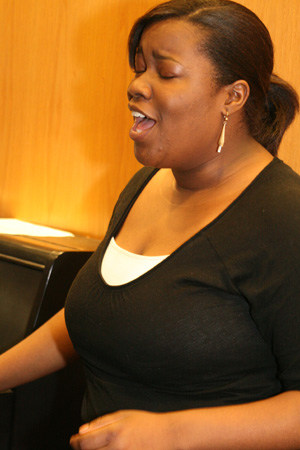 From swing to scat to gospel, Hilaire wants to sing it all. But with gospel, she said, there is no restraint and she can sing freely without feeling nervous.
"[Gospel] performers aren't there to put on a show," Hilaire said. "They're there to share spirituality."
Watch sophomore Carami Hilaire belt out a moving rendition of "Amazing Grace." (Download video.)Hilaire joined Ithaca College's only gospel choir, Amani Gospel Singers, last semester when she transferred to Ithaca from Brooklyn College. As a jazz studies major, she spends plenty of time on the technical and theoretical side of music, while the choir gives her a chance to do what she really wants: sing.
Amani is open to all students. Two years ago, it had around seven members. As the choir hosted concerts and went to festivals, however, it grew to about 20 members in 2006 and is now pushing 50.
Amani sang at the second annual Ithaca College Gospel Invitational Music Festival last month. The group joined high school choirs from Washington, D.C., and Baltimore. Hilaire soloed on "Order My Steps" and "Faithful is Our God," improvising in the latter.
"There's no way to practice for [improvisation]," Hilaire said. "You can't really teach it. The only thing you can do is have experience and like the song, understand the meaning of the song and agree with the meaning of the song."
Hilaire grew up in Brooklyn, N.Y., and first heard gospel in high school. Though she joined her school's gospel choir on a whim, she soon realized how much she was interested in it. She began singing at her Catholic church, eventually performing at her friends' Methodist churches. Despite this, Hilaire said she feels religion is unnecessary to sing gospel, having seen atheists experience equally spiritual moments. Still, she said, it's important to have some sense of spirituality.
"You have to truly understand what you're singing about," Hilaire said. "It has to mean something to you."
Her singing career in high school peaked when she, along with a few friends, were invited to sing at the Apollo Theater in Harlem. The event was televised and, as is customary for many performers there, Hilaire was booed off the stage in good humor. To her, it was an honor. Performers are often booed off the stage — it's the tradition.
Junior Charles Davis, president of Amani, doesn't see a confined demographic for gospel music. He said it can reach out to a large number of people, religious or not, because of its inspiring themes.
"It's spreading good news … about hope and faith and things that people find inspiring," Davis said.
Literally translated from Old English, gospel is "good news." The genre was popularized in the late 1930s, especially by singer, songwriter and guitarist Rosetta Tharp. Hilaire admires other innovators of gospel like Yolanda Adams and Mahalia Jackson.
"It's a spiritual kind of music that gets to the core of being a human," Hilaire said.
Davis remembered when, like many recent additions to the choir, Hilaire popped in at a rehearsal. He was impressed when he first heard her voice.
"She was auditioning for one of the lead parts, and I was like, Wow," Davis said. "Vocally, I'm impressed. … She seems like a social butterfly."
John Rawlins, assistant director of the Office of Multicultural Affairs, has been directing and conducting Amani since this past fall. He was the choir director at Cornell University and has directed choirs since he was 7 years old. Like Davis, he recognizes Hilaire's social and musical capacity.
"Carami is a firecracker," Rawlins said.
While she was always a good singer, he said, her solo at the Martin Luther King Jr. celebration concert set her apart.
"It was just phenomenal," Rawlins said. "She got a standing ovation that night. People were just amazed by her voice and the power behind it."
For Hilaire, it's not about the standing ovation, but the experience. Hilaire said gospel festivals like the ones held annually at Cortland and Cornell are the best parts of being with Amani. With other music, she may stress about performances or feel unsatisfied with them, but gospel is different.
"You don't have to worry about people not understanding what you are trying to do or not liking what you are trying to do, and everyone — everyone — is completely supportive," Hilaire said.
In addition to Amani's concerts, Hilaire also performed in Triple Threat Theatre's "The Fantasticks." She is helping to organize a benefit concert for poverty in Tompkins County, which will be held April 29 on The Commons.
Despite her passion for gospel, Hilaire said gospel is just one genre of music she would like to pursue.
"I just want to be a singer," Hilaire said. "I want to sing everything. … I'm open to taking whatever opportunities come to me."