Ditching heartbreak for hope, songwriter Rachael Yamagata, whose indie blues-rock music has been featured on TV shows such as "Grey's Anatomy," finds a new voice on her newest album while keeping her soul.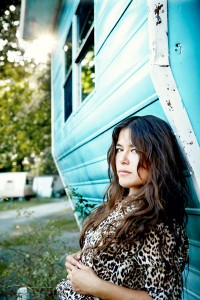 In her latest release, "Chesapeake," Yamagata embraces a more confident attitude and lush sound. Yamagata will perform at 9 p.m. today at Delilah's on Cayuga.
Accent Editor Kelsey Fowler spoke with Yamagata about her new album, her songwriting style and upcoming tour.
Kelsey Fowler: What was it like to transition from the heartbreak of "Elephants" to your flirty, fun album "Chesapeake"?
Rachael Yamagata: I hit rock bottom. Part of "Elephants" for me was a big purging of sorrow and loneliness. My emotional state got completely stretched as far as it could go in the land of sorrow, and it started swinging back the other way. Certainly the freshness of being independent now, making this record the way we did and as quickly as we did helps. The only way to go is up, so we might as well have a blast doing it. It became all about the music again.
KF: What was the process like for writing the upbeat song, "The Way it Seems to Go," which sounds so different from your previous work?
RY: The ballads will always be like my blood. Those come so naturally. "The Way it Seems to Go" I almost kept off the record several times. I wrote it almost as a writing exercise for myself, to see if I could write something with a lighter feel. Maybe this is a part of me that's important to show that's relevant musically, so that's new territory for me. It makes sense; it's time. My shows aren't sad experiences, it's just some of the music is a little wrenching.
KF: "Chesapeake" includes strong strings to back up your lyrics. What do you like most about the instruments' sound?
RY: I love strings. I'm completely all about the cinematic nature of them — dramatizing whatever the lyric is. It definitely sets the tone. Oli Kraus — he's a cellist — played live as we were tracking and then went back to L.A. and did up all of these string sections. So that's all him doing his arranging and recording. It sounds like string sections, but it's actually just him layering cello parts and violins on it.
KF: You've collaborated with many people in the past, including Jason Mraz and Bright Eyes. Who would be your dream artist to work with?
RY: I just sang on some tracks for Rhett Miller who I love, he's super talented, so that was really fun. I always have an ongoing list of people I'd love to collaborate with at some point. Elton John's always been on that list, and Kanye West, who I think is amazing. I'm always up for something inspiring and new and different.
KF: Are you excited for your upcoming tour?
RY: Doing radio shows got me back in the swing of live performance, like, "Oh, I have an audience and I have to say something or sing something." The road is always like a work vacation, extremely busy and exiting, and you'll feel like you're going to die on the third day, but it's also the most fun. I'll have to buy some Vitamin C first because I always get sick.
KF: Is there anything you absolutely have to do before you go on stage?
RY: Last tour we did a circular hand like, pick a phrase, not as cheesy as "Go team." It's usually something like "watermelon" — something ridiculous. I also write out the set list. That's my Zen moment. If I'm not nervous then I'm in trouble. I can usually tell within the first 60 seconds of a show which way it's going to go.
KF: Do songs get easier to write over time?
RY: It gets lyrically harder, unless you like, strike the cord that gives you the perfect phrase, or sets the flood gates open. It's always a challenge to say something in a new way, in a way that hasn't been said before. Musically, it gets more fun, as I play longer and longer. I still have so much to learn as far as technical ability to play instruments, so that, I think, keeps growing in positive, fun way.
If You Go
Rachael Yamagata
When: 9 p.m. today
Where: Delilah's on Cayuga
How much: $15