Letting people know they are important can be as simple as reaching out, saying a few kind words and writing "Love" on their arms.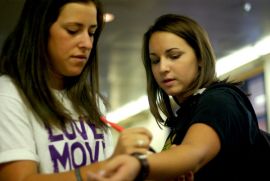 That's what the organization "To Write Love on Her Arms" believes, and students at Ithaca College are quickly joining in the trend. On a national and local level, TWLOHA's goal is to help students find hope and know that they, too, are loved.
TWLOHA is a nonprofit organization dedicated to finding help for people struggling with depression, addiction, suicidal thoughts and self-injury. The organization raises money to donate to treatment and recovery programs such as the National Hopeline Network and the Teen Challenge rehabilitation program.
Earlier this fall, students at the college started a new chapter of the organization on campus. Over the summer, sophomore Meg Rindfleisch, the president of the group, applied to become one of the first 15 university chapters in the country. The organization gave her the approval to start the chapter this fall.
Rindfleisch said the campus community's response to the group's initiation was positive.
"It was awesome to see so many people come to the first meeting since we haven't done much promotion of the group yet," she said.
Chelsea Swan, vice president of community involvement for the college chapter, said the group is taking steps to advertise further.
"We had a booth at Applefest, and we are trying to keep in touch with local schools to talk to students about the organization, depression and suicide awareness."
TWLOHA will table from 9 a.m. to 2 p.m. in Textor Hall today and tomorrow, writing on people's arms and selling raffle tickets for college spirit wear and other prizes. The tickets will be drawn tomorrow, a day unofficially recognized as "To Write Love On Her Arms Day" by other chapters across the country.
Proceeds from the raffles go to the college chapter, and the rest is donated to the national organization.
Rindfleisch said her primary goal is to get the group organized before planning other events.
"We wanted to take on so much, but we just can't right now," she said. "We've been too preoccupied with logistics, but what we really need to do is work on building a community."
Caitlin Oronte, treasurer for the Ithaca chapter, was involved with the national organization in high school and jumped at the chance to help start up a chapter on campus. She said suicide and depression among college students are serious issues and she wants to help as much as she can.
"We are not pretending to be doctors and professionals," Oronte said. "We are only the bridge for finding help."
Swan said the most important function of the group on campus is to provide an outlet for others who try to deal with these problems alone.
"College students and high school students think that they are the only ones going through this," she said. "We want to show them that we are here."
Other students are using TWLOHA as a way to plan and implement other related programs and events.
Freshman member Carly Fitzgerald joined TWLOHA to spread the word about the importance of building a community to help prevent suicide. She wants to bring a national program called "Out of the Darkness" to campus through TWLOHA. The program is a suicide prevention walk that starts at dusk and ends at dawn, signaling a break from the darkness that many suffer from.
"The walk would help promote our new organization," she said. "[It's] focused on building a community and promoting open conversation, and an event like this would bring everyone together."
Swan said she joined the group because some of her close friends have had experiences with these issues and said it is something that needs to be brought to the campus community's attention.
"People think that it is so taboo to talk about [suicide], and we really need to let them know that it is something serious," she said. "It really does need to be out there, and people need to know about it."
Oronte said it is important to have the organization on campus so people know they have a place to go when they are in need.
"The most important part would be discovering that love is closer than we may think," she said. "We want to raise awareness of these issues because there are ways of healing the scars."