On a damp, chilly Tuesday evening on North Plain Street in Ithaca, only a few illuminated houses murmur hints of holiday cheer. The rest do not twinkle, they slump, their darkened angles drooping in perpetual, disinterested shrugs. Here, the groan of a passing car — normally a mere accent to a whizzing suburban symphony — seems as abrasive as a jet engine. It's 23 nights before Christmas, and all through this neighborhood not a creature is stirring.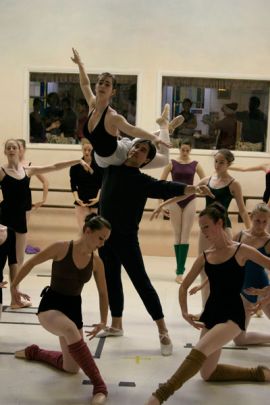 Except perhaps 30 mice. And an army of toy soldiers, animated candies, fairies and gumdrop royalty. Though hard to spot, they're certainly busy — crammed shoulder to shoulder inside the Ithaca Ballet's angular studio, pointing toes and polishing twirls. They're flowing in and out of kaleidoscopic formations, perfecting dances for this year's production of "The Nutcracker," slated to run at the State Theatre Dec. 12 to 14.
A tradition now nearing its 25th year, the Ithaca Ballet's take on the Tchaikovsky classic will enlist the participation of a few formally trained professionals and aspiring amateurs, along with dozens of young children and eager parents. In spite of its enormous cast and complex choreography, the show is regularly pieced together in just a short period of time — this year, in just more than a month.
"We had a really truncated rehearsal process this year because our fall show was Oct. 25 and 26," said Cindy Reid, Ithaca Ballet's co-artistic director. "We dove into rehearsal."
A wiry, jubilant woman whose own dancing background includes stints at New York's Ballet Repertory Co. and Chicago's Arie Crown Theatre, Reid said she has been pleased with the production's progress thus far.
"Everything has been amazingly smooth," she said. "I guess that's the big surprise."
For others, the ballet's rapid development is not so astonishing. Freshman Teresa Lynn, a nine-year Ithaca Ballet veteran, has tried on a number of "Nutcracker" roles over the years. She said as dancers compete for the top spots, a combination of dedication and competition drives the rehearsals forward at a rapid pace.
"'The Nutcracker' is always a gauging production," she said. "It kind of tells you where you are in the company – are you closer to the top or are you less?"
Lynn, who slices her days into neat segments in order to accommodate both schoolwork and 20 hours of weekly ballet practice, said that certain things inevitably get pushed aside in the final days before stepping under the lights.
"I generally do Christmas shopping after 'The Nutcracker,'" she said laughing.
The show's preparations are a cooperative, community effort. According to Reid, the final performance's gleaming precision is owed mainly to a large group of parents backstage who have every nuance "down to a science." They fidget with costumes, rearrange props and organize the next scene's players. One mother is even notorious for fussing over the ribbons that encircle the neck of each sheep costume.
"There's a lot of stuff that gets done on a volunteer basis," said Lou Derry, a parent of one of the players. "You'll have everyone from about 9 to 59 [years old]."
With a be-spandexed gaggle of adults and youngsters being herded in and out of complex formations, tensions can understandably run a bit high at rehearsal. Though her younger performers are generally well regimented in their swirling maneuvers, Reid has more than once had to take steps to bring their attention back to her.
"The first thing I have to say is, 'I'm the only one who talks,'" she said. "We're learning to talk with our bodies, not with our mouths, in dance. Dance is not theater."
As the premiere tiptoes nearer, rehearsals have become larger, longer and seemingly more chaotic. Lolling piano crescendos that had once floated through the studio uncontested are now stabbed by the squeals and giggles of dozens of petite dancers. Parents, frazzled by the shifting sea of pink leotards and twirling limbs that greet them when they arrive for their children, stand dumbfounded near the studio's entrance. Remarkably, among such last-minute chaos, no one seems to lose sight of the show's ultimate goal: to inject holiday cheer into an otherwise bitter Ithaca winter.
"It certainly brightens up a dreary December day," said Greg Sharp, the father of Elizabeth Sharp, an angel in this year's production. "With all the grayness we get around this time of year, all that color and spectacle and bright lights and music is very jolly and uplifting."
Sharp said these words in a measured tone as the area around him exploded with piercing, delighted shrieks. Young girls hurried around him as if he was a misplaced lamppost and a young, dirty blond boy — presumably Sharp's son — head-butted his father's left thigh repeatedly. Sharp just smiled.
It seems to be this sort of patient perseverance that propels the production forward with such purpose. Indeed, though nothing is forced, nothing seems thrown together either. Everything operates smoothly — a well-oiled machine with an unmistakably "Lego" aesthetic. As patrons are dazzled by the production's precision, they may have no grasp of the hard work that went into it — the hours spent under blaring gymnasium lights, sweating into often ill-fitting costumes.
But for many involved, that's been the goal all along.
"The whole point of ballet is to make something that's really hard look easy," Lynn said.
"The Nutcracker" will be performed Friday at 7:30 p.m., and Saturday and Sunday at 3 p.m. at the State Theatre. Tickets start at $6 and can be purchased by calling 277-8283.