Students who call the home of their professor and ask for "Dr. Conger" will be asked if they're looking for "he or she."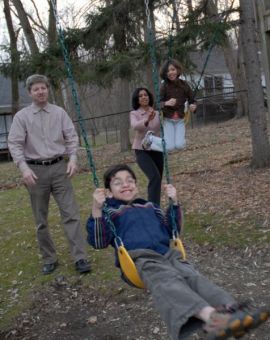 Vivian Conger, assistant professor of history, and Darius Conger, assistant professor of economics, both teach at Ithaca College. They're just one of the couples that share matching wedding rings as well as matching professions.
While some professors have husbands or wives who teach at the same college, others have spouses in the same field of study. Some even have both, working in the same department and school as their significant other.
The Congers, who have been married for 29 years, met at Central Michigan University while Darius was a teacher and Vivian was a secretary. The two got married, and Vivian decided to go back to school. Vivian attended Cornell University for her subsequent degrees, and the two eventually found their way to Ithaca College.
"It took us 17 years to get to be together at the same place," Vivian said.
Finding jobs in the same location is hard for any married couples, but it is more difficult when both spouses work in the same field.
"The job market for academics is really tight," said Stephen Sweet. "It's difficult for one person, but if you've got two people, it's very difficult."
Sweet is an assistant professor of sociology at the college while his wife of 11 years, Jai, is a psychology professor at Cornell University. The couple met at SUNY-Potsdam, where they were both teaching. When Sweet's wife found a job at Cornell, he followed her to town, first landing a research position on East Hill and later finding his current position at the college, a job he said he feels very grateful to have. Sweet said the specificity of job requirements in academic fields often leads to one of the spouses giving up their profession.
"It becomes a challenge of having two careers and trying to find the right institutional match where we'd be able to have two careers prosper," he said.
Sweet said he and his wife have learned to balance their busy careers with their family life that includes two small children. Sweet usually goes into the office early so that he can pick up the kids while Jai works later. The arrangement doesn't always work out.
"One night, I woke up and got myself dressed, [it was a] snowy, cold night. I brewed my coffee, hopped in the van, went to Cornell, got into my office, turned on my computer, and then I saw that the computer display said it was 2:00 in the morning," Sweet said.
Though balancing the same career takes some creative engineering from professors, sharing a common career also helps spouses grow closer. The Congers said they discuss their work at home as a means of bonding and relating to one another.
"We share fun stories, and we share our frustrations," Vivian said. "It's wonderful to work together."
Darius agreed, saying it is nice to have another knowledgeable person to talk decisions over with, as well as someone to share teaching methods with.
"It's actually pretty efficient," Darius said. "We bounce teaching ideas off each other."
Louise Mygatt, lecturer of music theory, history and composition, and her husband, Dana Wilson, professor of music theory, history and composition, also use their common field and passions to strengthen their relationship.
"Being a musician and being a composer — which we both are — it's a weird world, and unless your mate understands the amount of time you're going to spend doing it and what you get out of it, it's kind of hard to share that part of it with them," Wilson said, with Mygatt smiling and nodding. "It's much more consuming than a nine-to-five
job, and so somebody else has to be really appreciative of that."
Mygatt and Wilson met at the University of Connecticut, where Wilson was a graduate student and Mygatt was an undergraduate. The couple, married for 15 years, shares the experience of composing and a love of jazz music. Mygatt said the mutual interest in music makes for more bonding experiences in their marriage.
"It's fun to go to concerts together and hear the live music and then talk about it," Mygatt said. "When it's both of your field, to experience it together, it's just fun."