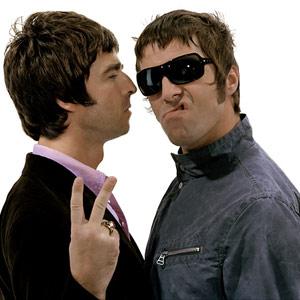 I've decided I'm going to continue my Gloves Are Off segment from last year. Why? Because I like violence.
I'm an Oasis fan. I enjoy most of their music, and that's saying something since I generally fail to gravitate towards anything that comes out of the '90s. And it's saying even more that I don't find their most popular songs incredibly annoying. This only happens when jerks sit under my window and strum on their acoustic guitar because, let's face it, it's either going to be "Wonderwall" or a John Mayer ditty.
Actually, the only thing that truly gets on my nerves when it comes to the Gallagher brothers is when they're in turmoil and I have to read about every he-said-she-said remark. I don't consider that news. That's stuff for the tabloids when you're checking out at the supermarket. You point and chuckle because the material is absurd and it doesn't really matter. So I have more than one reason for hoping that they can patch things up: we get some quality Britpop back and British music publications can go back to reporting legitimate music news.
But until then, Oasis fans are left with a divided band that has gone separate ways with other musicians. Liam has continued his foray into fashion with his Pretty Green label. I've checked the stuff out and I shall not be making a purchase anytime soon. I'm sure Liam would be disappointed in me saying that, but it's true. I hope he launches one of his tirades in my direction. It would be an honor.
Oh, and he has his own musical side project under the name Beady Eye. Their album, "Different Gear, Still Speeding," is solid and delivers some quality tuneage. You can check out "The Roller" below:
Meanwhile, Noel has been working on his solo album, which will be released under the name Noel Gallagher's High Flying Birds. Even thought the full LP drops in October, fans can find select tracks on YouTube. My current favorite is "The Death of You and Me." I like the combination of the straightforward guitar strumming mixed with some brass elements that come in later on in the song. Check it out here:
Noel Gallagher's High Flying Birds – "The Death of You and Me"
What do you think? Who's "winning" the Oasis breakup?