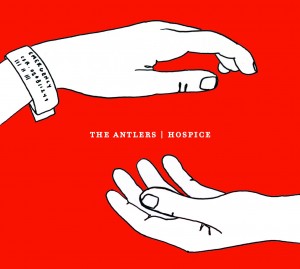 I don't like using the term "masterpiece." Coming from someone who is admittedly hyperbolic, it can be a dangerous word to throw around. It's definitive and, in my opinion, the end-all-be-all of artistic praises. If you read my album reviews in the print edition, you'll know that I give glowing remarks to just about everyone. This is mostly because I have to buy the albums I review and I'm not going to buy an album just to experience writing a bad review.
But I'm going to take a hammer and break that glass. The Antlers' Hospice is a masterpiece through and through. Now, I didn't have this blog back in 2009 when the album came out. In fact, I'm pretty sure it came out the week before I became a student at Ithaca College. Therefore, I didn't review it.
Every now and then I'll go through a period where all I do is listen to Hospice for a week straight. It happens about once every 3.2 months. Hospice is a concept album. This means that all of the songs revolve around a central theme or message. As far as I'm concerned, a listener should be able to deduce whether or not what they're listening to is a concept album. An artist (Coldplay) could tell the listeners they're listening to a concept album (Mylo Xyloto) but if the listeners can't figure it out for themselves, there's a missing link.
Hospice is a concept album that tells the story of a hospital worker taking care of a terminally ill patient. Each song represents a stage in the pair's relationship as the patient's bone cancer continues to worsen.
While the music itself is amazing, the lyrics are the part that really do it for me. I always try and read song lyrics without music to see if they mean anything to me in the form of poetry. Even with some of my favorite bands, this usually fails. But The Antlers' lyrics make my hair stand up even when I'm reading them in silence.
If there is one album I could have everyone I know listen to, it would be this one. Yes, it's depressing, but unlike the fate of the patient, it's healing at the same time. The sheer emotion packed into ten songs is simply unreal.
If you get a chance, listen to Hospice. The Antlers came to Ithaca College to play our last day of classes in 2010. The crowd was relatively small which was disappointing, but I was absolutely thrilled. So, on the off chance that Peter Silberman, Michael Lerner or Darby Cicci read this: thank you, I couldn't have asked for a better ending to my freshman year.