Two VIC Radio disk jockeys are preparing to remain awake for 50 consecutive hours this weekend to raise money for a local nonprofit community health organization.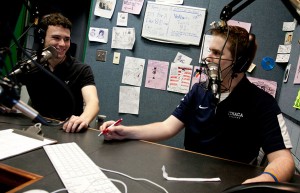 A long-standing tradition at VIC Radio, Ithaca College's online indie-rock station, this year's 50 Hour Marathon will benefit the Ithaca Health Alliance. The marathon began as a staff bowling tournament and has since evolved into a student-run radio marathon.
The marathon, stretching from April 20 to April 22, sells hours for $40 to local businesses, organizations and individuals who want to donate money to the beneficiary of VIC Radio's choice. In return, donors will receive three on-air mentions and recognition on VIC radio's website. About $360 raised by VIC from promotions earlier in the year will also contribute to the donation, according to Alex Ogle, VIC's station manager. The station's executive staff, Ogle said, hopes to bring in more money from the marathon but has no specific dollar amount goal.
Senior Adam Girgenti, who recently passed down his duties as station manager to Ogle, has organized aid contributions to scheduling events. Girgenti said the marathon not only promotes VIC radio, but also brings attention to a great cause.
"What we'd really like to do is raise awareness of Ithaca Health Alliance and make awareness of the problem — that there are people out there who cannot afford health insurance and need this help," Girgenti said.
When deciding on this year's beneficiary, health care was frequently discussed among VIC's executive staff largely because of suggestions by senior Andrew Lane, a staff member who's health class has been working at the Alliance, Girgenti said.
"There is a health care crisis in this country, and we have a lot of uninsured and underinsured people who are our neighbors," Chris Wheatley, manager of radio operations for WICB and VIC, said.
The Ithaca Health Alliance's largest program is a free clinic that provides primary health care to residents of Tompkins County. The organization, composed of mainly volunteers, does a lot of work for the community, according to Andrea Levine, outreach coordinator for the Ithaca Health Alliance.
Levine said health care should be a basic right, not a privilege, and fundraisers like VIC's marathon could facilitate increased accessibility to care.
Levine said at least 28 percent of adults in Tompkins County have no health insurance. With money from private donors and fundraisers like VIC Radio's, she said, Ithaca Health Alliance could provide services through health education programs and free clinics to people whom otherwise would not receive any care.
Juniors Zach Wilkens and Collin Schuck, VIC disc jockeys, said they are committed to staying awake for the full 50 hours. Sophomore Emily Junge and senior Gillian Smith will make a street team that will call in from VIC-hosted events, such as a scavenger hunt and a 42-hour film festival. The Haunt will also host a benefit concert featuring local bands such as the Erik Caron Connection, Dirty Bird and Underwater Tiger.
Parts of the marathon will be simultaneously broadcast on WICB and ICTV.
Wheatley has played an influential role in the organization of the marathon since its start in 1986. In those 26 years, Wheatley said, he has seen it all when it comes to the 50 Hour.
Disk jockeys usually go through different ranges of emotions and attentiveness throughout the marathon, he said, so to keep them alert, the hosts are encouraged to interact with students and residents of the Ithaca as they broadcast.
"Zach, Collin and our street team will be in the studio and around town and on campus for the whole weekend," Wheatley said. "We don't want to trap them in the studio."
The silliness that ensues after days without sleep are inevitable, Wilkens said, but he added that should not take away from the goal.
"I'm a little scared of the repercussions of staying up for 50 hours straight," Wilkens said. "But in the end, it's really for a great cause."
If you're interested in donating to the Ithaca Health Alliance or would like to participate in the marathon events, visit www.50hours.org and www.ithacahealth.org.