Since she moved to Ithaca in 1965, Carol Kammen has made a career out of being the first to discover facts about the area.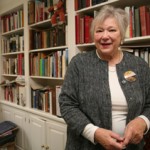 "I have always been interested in the history of people who were not written about in the old kind of local history," she said. "All people who don't normally or did not normally get into local history."
Kammen, who officially became the Tompkins County historian in 2000, has been honored twice this year for her work about the history of people who have been left out of traditional history. The first honor was the Award of Distinction, awarded by the American Association for State and Local History. The selective award has only been given twice in the 60 years it has existed.
"There is nothing nicer than having one's colleagues appreciate what one does," Kammen said.
She was also honored by the Tompkins County Board of Representatives, who passed a resolution in appreciation of the county historian Oct. 4. Kammen said it was in recognition of all the ways she has participated in recognizing local history.
Kammen said her interest in the history of Tompkins County was spurred when her husband took a job in the history department at Cornell University.
Kammen said she has held numerous historian positions in the county and worked with many organizations, including the Hangar Theatre and the Ithaca City School District. From 1983 to 2007, she worked as a lecturer and senior lecturer in the history department at Cornell.
Cornell sophomore Emma Herzog, a campus tour guide, said her tour always includes the story of a letter by Ezra Cornell hidden in Sage Hall, a piece of hidden history Kammen shared with her freshman history class. According to Kammen, the letter was to be read only if the university failed.
"I loved her class," Herzog said. "She made history come alive."
Herzog said she decided to become a tour guide after Kammen's class piqued her interested in the history of the school.
Many of Kammen's students are not interested in history. At the end of the course, however, a number of them became campus guides because of their interest in Cornell's history.
"They ended up liking it more than they thought they would," Kammen said.
Kammen said she has always had an interest in history. After growing up in Cranford, N.J., Kammen attended George Washington University in Washington, D.C. She graduated in 1959 with a degree in history.
Kammen's titles also include author. In addition to writing regular magazine editorials about ethics of philosophy of local history, she has also written books. Her latest book, published in 2006, was titled "First Person Cornell: Student Diaries, Letters, e-mail and Blogs." The book contains comments by Cornell students, starting on the day Cornell opened in 1868 with a young man who sat down on his bed and wrote a letter. Since the material for the book was buried in many different collections, Kammen said it took her more than 20 years to complete the book.
Cornell sophomore Vance Gao said he noticed Kammen's desire for the history of unknown people. Gao said Kammen taught her students about the little known history of Cornell and through her course he was able to learn a different kind of history about the place in which he's chosen to live until graduation.
Gao, like Herzog, was not surprised with Kammen's honors.
"She knows what she's doing," Gao said, who recently asked Kammen for help with a project he is doing about the history of the Cornell Symphony Orchestra.
Leah Barad, who graduated from Cornell last May, was also a tour guide for the campus. She said she felt pressured to live up to Kammen's standards.
"I was always a little nervous that I would pass Mrs. Kammen while giving one of my tours and she would catch me saying something inaccurate," she said. "It's truly amazing how much she knows."
Kammen said she was flattered to have received the awards but that her job is satisfaction enough.
"Winning awards is very nice," Kammen said, "But then you have to go back to work, and I'm happy to go back to do what I do."