John Henry Gonzalez, co-founder of the Small-Scale Farmers' Movement of Cajibio in Colombia, has been advocating for farmers' rights since his organization's founding in 1980. As part of the movement, Gonzalez took part in a debate with Álvaro Uribe Vélez, former president of Colombia in 2008, and led a 500,000-person march to the capital following the debate.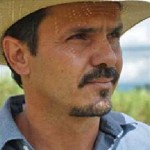 Gonzalez will visit Ithaca College from 2 to 3 p.m. tomorrow in Taughannock Falls Room to discuss the approval of the U.S.-Colombia Free Trade Agreement and the ways his organization is mobilizing to prevent displacement and violence in Colombia.
Assistant News Editor Elma Gonzalez spoke with Gonzalez about his concerns about the FTA and why he is reaching out to the college community.
Elma Gonzalez: What are the goals of your organization?
John Henry Gonzalez: It's a farm worker organization that is concerned with advocating for the rights of farm workers and their associates. We developed a life plan that contemplates eight points, which are health, education, culture and identity, water and the environment, territory and authority, the political and organizational, the defense of life and human rights and infrastructure.
EG: How does the Free Trade Agreement impact rural Colombian farmers?
JHG: In Colombia we have around 2,000 different varieties of corn. These are seeds the farmers save after a harvest so they don't have to buy them from corporations ­— they take it from their own harvest. With the FTA, companies like Monsanto that manage seed patents would start to push their own seeds into Colombia. The conflict farm workers have had in other countries like Canada is that Monsanto has allowed for the different corn varieties to be lost and only allows for the patented seeds to prevail.
EG: What brought you to the college?
JHG: The plan is the creation of a brotherhood where the U.S. citizens who greet this proposal commit to make an impact in their government through their senators and community to advocate for the Colombian community. The community commits to make an impact in their government to protest the policies issued by the U.S. so that they have less negative effects in the communities in Colombia. So they go visit us, and we come visit them too. My visit corresponds to the moment when we initiate our brotherhood, share both of our realities and bond with the brothers of New York.
EG: What do you hope students take away from your discussion at the college?
JHG: The idea is that the people who attend my lecture will have an image of what is going on in Colombia and what we are doing to search for a worthy life. We are looking for people to become interested in these realities. We are hoping people will know a little more and help change the situation. We are going to hold a conference for peace, and we would like people from Ithaca to be able to attend the conference for peace in Colombia so that they are aware of the realities, so that they can help build and so that they can commit to peace and not war.
This interview was conducted in Spanish and translated into English by Elma González.
Webmaster Honest Charley Bodkin contributed to this report.