Rae Armantrout thinks of her poetry as a recycling process — she reuses the material the world provides to try to understand the big questions she's had since she was young.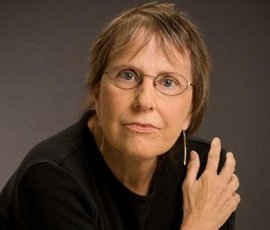 Armantrout's work has paid off. The author and poet has received the 2009 National Book Critics Circle Award and later the Pulitzer Prize in 2010 for her book "Versed," one of the 10 books she has published. The New York Times selected Armantrout's book "Next Life" as one of the 100 most notable books of 2007. Armantrout is currently a professor of poetry and poetics at the University of California, San Diego, where she grew up.
Armantrout is the second of three authors to visit the college as part of the writing department's Distinguished Visiting Writers Series. She will read a collection of her published work and some unpublished poems at 7:30 p.m. Tuesday in the Klingenstein Lounge.
Staff Writer Nicole Arocho spoke with Armantrout regarding her writing process and her advice for young writers.
Nicole Arocho: What is your writing process? How does your poetry come to life?
Rae Armantrout: I always carry a blank book with me, and I write in it my reactions from wherever I am. It can be natural sights or things I read — anything in the world is material to me. I try to be reactive to the world and write notes of what I see. I recycle with my work my reactions to the world.
NA: Has your perspective on writing poetry changed with time?

RA: I would say that it has subtly changed over the years, but my work has stayed consistently the same way.

NA: What do you think is the best achievement of your career?

RA: I am tempted to say winning the Pulitzer Prize, but I find external recognition of my work very satisfying. When I finish a poem and show it to a friend, and my friend likes it, I am reassured that I can have new ideas and create with them.

NA: You've said that you react to the world around you in your poetry. What are the things you react to the most in your writing?

RA: There are two things that come to mind. I read a lot about science — biology and things like that — and religion. I was raised to believe in Genesis and how the world started. As I grew older, I stopped believing and started questioning. In my poetry, I keep coming back to these questions, not necessarily looking for answers but of ways to try to understand them. I try to understand the world with anything that comes my way.

NA: What would you recommend to an aspiring poet or writer?
RA: Two things — read as much poetry as you can, and be willing to scare yourself and go crazy and take chances.