As the national and local economies make a slow recovery from the 2008 economic recession, business and tourism in Ithaca is beginning to look up.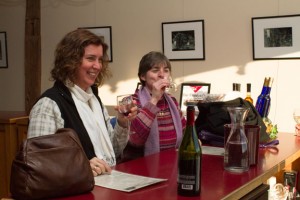 Bruce Stoff, marketing and communications manager of Ithaca/Tompkins County Convention and Visitors Bureau, said the rate of hotel occupancy rose by 6.8 percent from 2009 to 2010. According to data from Smith Travel Research and New York State Hospitality and Tourism Association, hotel occupancy increased by 5.7 percent nationwide and 5.4 percent in New York state from 2009 to 2010.
Stoff said the bureau sees rising hotel occupancy rates and greater interest in the Ithaca area as a sign that tourism is beginning to recover from the 2008-09 economic slump.
When the recession began in 2008, Stoff said, Tompkins County saw a 10 percent drop in its rate of tourism within three months.
"The economy tanked, and tourism, being discretionary spending, just disappeared," he said. "So our business just kind of fell off a cliff."
In an effort to increase tourism during the recession, Stoff said, the bureau encouraged families in New York to take "stay-cations," or short day trips, to local tourism spots.
Cathy Nillspaugh, executive director of the Cayuga Wine Trail, which services 16 wineries along Cayuga Lake, said she notices a variety of people come to the trail from other areas of New York and Pennsylvania — from visitors looking for a quick trip to wine drinkers interested in comparing Cayuga's selection to other wines in New York.
"Our marketing is geared toward a one-hour, two-hour, or four- to five- hour stay," she said.
Along with the launch of its new website and increased advertising efforts on Twitter and Facebook, she said she expects a rise in visitation and wine sales this year, since last summer's dry growing season was more successful than usual.
David Hirsch, co-owner of Moosewood Restaurant, said he was pleasantly surprised when business didn't drop dramatically in 2009 and noticed a generous increase in 2010.
"We had a really great spring, summer and fall," he said. "After Christmas, because the town gets so quiet, [business] always drops a little, but that was really just the tail end of 2010."
In addition to an increase in visitors staying in Tompkins County, more people are traveling to other destinations as well.
Tony Rudy, assistant manager for Ithaca Tompkins Regional Airport, said the airport saw 121,334 boarding passengers leaving Ithaca for 2010, an 11 percent increase from 2009 and a record high for the airport. He said the airport sees a similar number of passengers flying into Tompkins County. With the addition of Continental Airlines, Rudy said, the airport hasn't seen a drop in passengers in four years.
"We've kind of been going against the trend," he said. "Typically, larger airports in the U.S. had decreasing passenger numbers in the past couple of years. We haven't had a decrease since 2006."
Stoff said Ithaca has been seeing a higher demand for tourism than many other areas upstate because visitors to Ithaca's colleges and universities for campus tours, events and other conferences will in turn make trips to the area's other top tourism spots — the gorges and downtown area.
"Families will come here on a college visit, and they'll see the area, like the area, and then they'll decide to spend an extra half day and look at a waterfall, spend an extra half day and go downtown and try some restaurants," he said.
In addition to the business prospective students and their families bring to Tompkins County, Stoff said the National Conference on Undergraduate Research at Ithaca College will bring thousands of visitors to town this spring.
As tourism rates continue to climb, Stoff said he hasn't heard many complaints from area restaurants and hotels about declining business.
"It's almost back to business as usual — a nice good, steady growth."