In the past week, Ithaca College's human resources department has brought three candidates for the associate vice president position to campus for open sessions with members of the faculty and staff.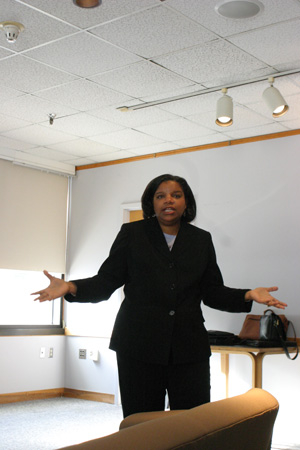 Schelley Michell-Nunn came to campus Friday; Robin Switzer spoke Tuesday; and Mark Coldren's open session is at 10 a.m. today in Clark Lounge.
The position of associate vice president was created after the former director of human resources, Martha Turnbull, retired in October 2005. Since then, Carl Sgrecci, vice president of finance and administration, has been acting in the position.
The search began last spring, said Michael McGreevey, executive assistant to the president. But, he said, the college was not satisfied with the applicant pool and the application process ran into summer when faculty were away.
McGreevey said the job opening was re-announced in the fall, and they received around 100 applications.
"[This is a] great application pool in quantity and quality," McGreevey said.
The associate vice president of human resources oversees the human resource departments, including benefits, compensation, payroll and hiring and training.
"We're really looking for a person to help us build and maintain a first-rate personnel function that will help Ithaca College be an employer of choice," Sgrecci said.
The candidates are all directors of human resources at other institutions and have been working in HR departments since the 1990s.
A search committee of nine faculty and staff members, chaired by McGreevey, was formed to represent the college's employees.
Members of the search committee and all other faculty and staff at the college are encouraged to attend the last open session in order to hear the candidate's take on running a human resources department, ask questions and answer questions, McGreevey said.
McGreevey and Sgrecci said they were pleased at the turnout for the previous open sessions. Each session drew around 40 or 50 college employees, McGreevey said.
"A position of this nature … has involvement with our [1,500] employees," he said. "I was very pleased that that number of employees took interest in and want to participate in the process of selecting a new leader."
Michell-Nunn is the director of human resources for the city of Ithaca.
"I wasn't really looking for a job," Michell-Nunn said. "It just looked like one of those that you didn't want to pass up."
Coldren said his career in human resources led him to this position, and the college seems like a good opportunity.
"In terms of the size of the institution and the kind of things that happen at Ithaca, this really looks like a great next step for me," Coldren said.
McGreevey said the college hopes to hire one of the three candidates. He said they hope to make an offer in mid-February but is not sure when the new associate vice president will be appointed or when that person will step into the position.
Switzer was unavailable for comment at press time.