Clear Channel announced this week it would include Ithaca College's WICB as one of 14 college radio stations in iHeartRadio, the most popular free broadcast radio application for the iPhone and Android.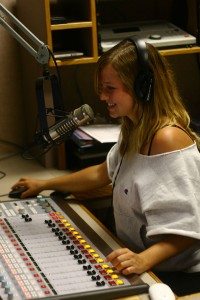 Clear Channel Media and Entertainment is one of the largest media companies in America. In a statement released Jan. 23, the company said it would add college radio stations to their iHeartRadio application, which allows users to listen to more than 800 broadcast radio and commercial-free, digital-only stations from 150 cities on an iPhone or Android mobile device.
According to the press release, John Hogan, president and CEO of Clear Channel, said many of the company's top on-air personalities started their career on college radio, so the company is glad to provide some of these stations with an industry-leading national distribution platform.
"Bringing college radio stations to iHeartRadio is a great source of local and independent programming that offers our users a more diverse listening experience and also provides listeners new opportunities for music, news and sports exposure and discovery," he said in the release.
Chris Wheatley, radio operations manager for WICB, said being a part of this new app is an exciting time for the station and could offer a huge opportunity for exposure for the station and its DJs.
"It's important that the app is ubiquitous," he said. "It will work on iPhone, Android, Windows, Blackberry — I think even Xbox 360. We're going to get the promotional clout of Clear Channel behind us."
WICB is joined by other top radio stations in the country, including but not limited to Emerson College's WERS, Seton Hall University's WSOU, Stanford University's KZSU and Dartmouth College's WFRD.
WICB is already available on many platforms, such as its FM broadcast, an iPhone application, iTunes radio and via online streaming. Junior station manager Darren McGee said adding the iHeartRadio app will offer the station even more possibilities for exposure.
"There is no reason why anyone should not be listening to WICB at this point," he said. "There's nowhere you could really be where you couldn't be listening to it."
McGee said having college radio stations on an app like iHeartRadio is important for listener accessibility.
"College radio is a huge part of the music industry that people don't really recognize a lot of the time," he said. "A lot of people only recognize mainstream radio and pay attention to that, but a lot of stuff that ends up on mainstream started somewhere."
According to the press release, iHeartRadio is the number one free broadcast radio app on the iPhone and Android. Clear Channel hosts 75 million digital listening hours a month, 47 million downloads of the app and more than 15 million Facebook fans, the release said.
Though the radio industry is presently undergoing change, Wheatley said, he predicts there will always be some kind of audio entertainment, whether it's over the FM airwaves or on a mobile device.
"We're well positioned now," Wheatley said. "We're on air, we're online, we're on all these mobile devices — so our challenge is to make sure our program is engaging and something people want."