After nearly three years of preparation, the largest National Conference on Undergraduate Research took over Ithaca College last week. Though parking and getting around town presented a challenge to students at the college and NCUR participants, the event was a success overall.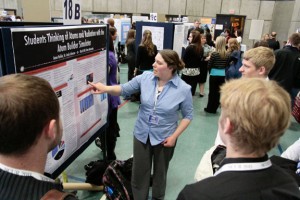 More than 3,300 student presenters and faculty from across the nation crowded onto campus last week as the college prepared to promote itself, and local businesses readied to end the winter sales slump.
NCUR annually provides a forum for undergraduates to present their research through oral presentations, dance performances, art exhibitions and posters.
Carol Henderson, chair of the college's executive committee on NCUR and associate provost for academic policy and administration, said the conference proceeded better than expected.
"There are a few hiccups here and there, but I've been to a lot of large conferences in my professional life, and I've never seen one just move as smoothly or be as friendly as this one," she said.
Henderson said 2,886 people preregistered for the conference, 213 of which were from the college.
Henderson said sustainability was central to the college's approach to hosting NCUR and the college had a goal of putting on the most environmentally friendly conference yet. She said the college used recyclable paper for the printed schedules and chose to provide all participants with reusable ChicoBags instead of plastic ones given at past conferences.
"The ChicoBags that we were using were both less expensive and more environmentally sound," she said. "So sometimes, less is more."
Marian Brown, NCUR executive board member and special assistant to the provost, said the college also created a mobile version of the conference website containing the NCUR schedule and updates accessible via a smart phone — a first at NCUR.
The college restricted parking lots closest to the academic buildings to NCUR participants, leaving students and faculty to park farther away and take a shuttle. Some students at the college who had cars said they prepared to stay parked on campus to preserve their spaces, but parking lots were mostly free during the conference.
Brown said the college over-prepared for parking.
Brown said if the Athletics and Events Center had been completed, with about 600 additional parking spaces, the college could have reduced the restrictions.
Junior Amanda Vitullo said after seeing the parking restriction notices, she wouldn't have bothered coming to campus if she didn't need to be there for class obligation.
"[The college] kind of made it feel like nobody should have even gone near campus unless they were required to be on campus," she said.
Since restricted lots were not full Thursday, the college opened C-Lot to the campus on Friday, even though it was scheduled to be restricted all day for vendors attending a graduate school fair during the conference.
Matt Riis, marketing and events manager for the Downtown Ithaca Alliance, said the group worked closely with the college to ensure participants would head downtown.
"We've had a long winter so we were really excited, really glad that the college welcomed us to come up here and get involved and are really looking forward to the boost," Riis said.
Senior Jane DeBiasse said she took a friend to dinner last weekend but had to search for a restaurant that did not have a long wait for a table.
"We went to three places before we ended up going to Kilpatrick's because everything was so crowded," she said.
Henderson said the college told professors to incorporate NCUR into class curricula and not cancel class. Some professors had students attend sessions, but others did not require it.
Brooke Hansen, associate professor of anthropology, said she encouraged her students to go to sessions, but did not require it for credit because she thought they would be crowded.
"The panels I chaired were filled," she said. "There were no extra seats, and they were filled with people who came to attend NCUR, so my students could not have fit in the room."
Prashant Gabani, a University of Pittsburgh at Bradford senior, said there could have been more direction around campus.
"Navigation was kind of hard," Gabani said. "There's enough signs, but there could be more."
Senior Gamy Wong said he attended sessions out of his own interest and was impressed by the presentations but said some presenters complained about not having sufficient time and funds to complete their projects.
"A lot of people have really good topics, but when you don't have enough time to do the research for a long period of time, it kind of defeats the purpose," he said.
Brown said NCUR volunteers already asked her when the college would host another NCUR. She said there are no plans for another NCUR at the college, but it went so well that it could be a possibility.
"We are an attractive venue," she said. "Ithaca might be right to host this again."