With more students exploring their options for interning abroad, Ithaca College is looking to expand its international reach.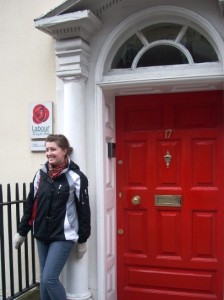 According to recent statistics from the Institute of International Education, a non-profit research organization, the number of American students who participated in and received academic credit for international internships increased 133 percent from 2003 to 2009.
Tanya Saunders, assistant provost for international studies and special projects, said the college hopes to develop more internship opportunities abroad as part of IC20/20's National and International Initiatives Task Force goals.
"Students have to be prepared to interact in a competent way with different cultures," Saunders said.
She  said the college is looking into developing new study centers in New York City, as well as in the Caribbean and Africa. At the London Center, students only take classes with other peers from the college, but Saunders said she hopes adding new programs will allow students to communicate with people of different countries.
Rachel Cullenen, director of study abroad at the college, said she has noticed an increase in student interest to intern abroad.
During the 2009-10 school year,   177 students studied at the London Center. Cullenen said 92 of those students held an internship, and she's seen a trend of half to two thirds of participants obtaining internships in London for the past couple years. Since the London Center is the college's only campus abroad, Cullenen said the college only places students in internships in London.
However, Cullenen said most of the college's six affiliated study abroad programs offer internship opportunities. She said most students study with the Institute for the International Education of Students, the college's largest affiliate program.
Sophomore Sam Hossler interned at Gibson Square Publishing in London last fall. During her internship, Hossler said, she helped pick manuscripts to give to her supervisor, responded to query and rejection letters and set up interviews, which gave her the opportunity to meet professional writers.
"One of my favorite things was picking out the manuscripts that I thought my boss would enjoy," she said. "He actually did consider one of the manuscripts that I pulled out, which was exciting."
Despite putting the internship on a resume, Cullenen said there are setbacks to interning abroad. Some international companies who don't have experience working with interns give students either more or less hands-on work than they expected.
"We have such an internship culture in this country," she said. "What students find when they get abroad is that not all countries do have that kind of an internship culture. For that reason, the opportunities are not quite what they hoped."
Senior Susannah Faulkner said she enjoyed that her internship with the Labour Party in Ireland last spring gave her more work than an internship in the United States. Faulkner said she worked in the press office and ran Facebook, Twitter and blog pages for the party's senators.
"I was given a lot more responsibility than I would be given at a political party in the States," she said.
Junior Ranu Nath interned with the Slovakian section of the European Parliament in Brussels. She said learning to overcome the language barrier was one of her favorite challenges and gave her motivation to work abroad after graduation.
"Now [I can] actually apply what I learned and get a firsthand experience about all of these issues that I learned about in class," Nath said.
Because she hopes to work abroad in international politics some day, Faulkner said her internship in Ireland prepared her for her future goals.
"It was close to what I want to do with my life," she said. "Being able to go out to dinner with senators and hopping in a cab with a bunch of deputies to Parliament … was amazing."