When some residents of New Orleans turn on the tap, contaminated brown water still comes out, even a year and a half after Hurricane Katrina.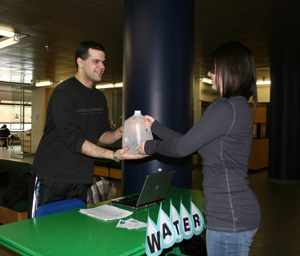 Deb Mohlenhoff, coordinator of community leadership and student development, said tap water in New Orleans is so contaminated even purification filters fail to make it drinkable.
"It's still like drinking poison," Mohlenhoff said.
As part of Martin Luther King Jr. week last month, Bruce Davenport, a pastor at St. John's No. 5 Faith Church in New Orleans, spoke about Hurricane Katrina and its effect on the city. His speech inspired Mohlenhoff and John Rawlins, assistant director of the Office of Multicultural Affairs, to organize a bottled water drive to benefit the Seventh Ward of New Orleans.
The drive offers an award of $1,000 — part of MLK week's budget — to the organization that donates the most water. The third and last day for organizations to collect water is Tuesday.
Eight clubs are involved in the drive, including Habitat for Humanity, IC Feminists and the Men Against Rape Society, among others.
Sophomore Genevieve Labe, a student who helped coordinate the drive, said while money donations would be accepted and sent to Davenport, the drive's purpose is to collect water, since people would know exactly how their contribution helps.
"[Water is] something people have all the time," Rawlins said. "[The people in the Seventh Ward] don't have it right now."
As of Tuesday, the drive has collected approximately 16,000 fluid ounces of water.
Senior Janine Fiala, president of Habitat for Humanity, said the club has collected 8,500 fluid ounces as of Tuesday. She said if the club wins the $1,000, it plans to buy housing supplies. It would also like to donate some of the money to cities the college's chapter works with — such as Raleigh, N.C., and Corning, N.Y. — and to the international branch of Habitat.
"Winning is an extra benefit," she said. "Even if it wasn't part of this program, we would be spending as much time bringing in water and helping with the donation."
Sophomore Kendra Sundal, president of Amnesty International, said she encourages all students to donate.
"If everyone on campus were able to give 2 gallons per person, that would be great," she said. "Whether it's through my club or another club, I'd like to see every person at Ithaca caring about it and really getting water out there."
Sundal said she hoped students would donate because they wanted to help, not because they wanted funds for their organization.
"There are positive and negative sides to making it a competition, but in the end, the important thing is that water gets to these people and not that money gets to a certain club," she said.
Smaller student organizations, such as the Amani Gospel Choir, have also donated water. Amani is one of the top collectors with 3,500 ounces.
"It's the small organizations that will surprise a lot of people with how politically charged they can be and how active they can be … when it comes to helping people," Labe said. "People don't realize that small organizations have a huge impact on society on and off campus."
Fiala said the college's students were ready to donate and volunteer.
"This campus is all about community service and helping each other," she said. "It doesn't need a national crisis to get students to help each other. If there is a cause, students can support it."
Sundal said she hoped the giving would continue after the drive.
"If we can keep this [volunteering] up and continue to help people down there, I think that's the most important thing," she said. "It'd be great to win, but it's nice to know that people are better off than they were before."